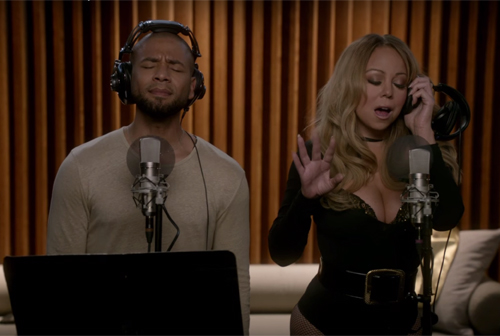 On Wednesday night (Oct. 5), Mariah Carey made her much-anticipated appearance on 'Empire,' and performed her previously released duet "Infamous" with Jussie Smollett aka Jamal Lyon.
"I know it's dangerous, but I believe / A greater love, there'll never be," sings Mariah over the Jermaine Dupri production, while Smollett delivers Auto-Tuned vocals.
Mariah played the role of mega-superstar Kitty, who mentors Jamal Lyon and helps him "overcome personal difficulties and reach a musical breakthrough."
"It was great," Smollett told EW of working with MC. "She's a sweetheart. She's a professional and, you know, this is a long time coming."
The two will reunite in Hawaii later this year when Smollett opens for Mariah during her three shows in Honolulu on Nov. 23, 25, and 26.
If you missed it on the show, catch their "Infamous" performance below.