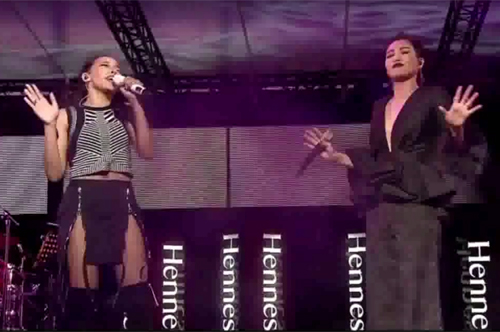 The ride of Tinashe's delayed sophomore album has been a rollercoaster for sure, and it's not clear when it will arrive, but the talented entertainer continues to push on as she awaits a proper rollout of the album and a single that connects.
Most recently, Tinashe has been on a trip to Asia where on Monday night she performed in Taiwan at a Hennessy sponsored event. The 23-year-old singer teamed up with Taiwanese Pop star A-Lin for a duet cover of Alicia Keys' classic "If I Ain't Got You."
Not always one to shine light on her vocals, but to focus on the full stage performance, Tinashe did a solid job with this cover.
While she has been consistently releasing new music, the latest being the cuffing season single "Company," Tinashe continues to land modeling gigs and magazine features. The singer currently appears in the October issue of Allure Magazine, where she gives a tutorial on her 4-step ballet inspired workout warm-up routine.
Tinashe's anticipated sophomore album Joyride is still expected to drop sometime this year, but as we await an actual date, check out her performance of "If I Ain't Got You" and her workout warm-up routine below.