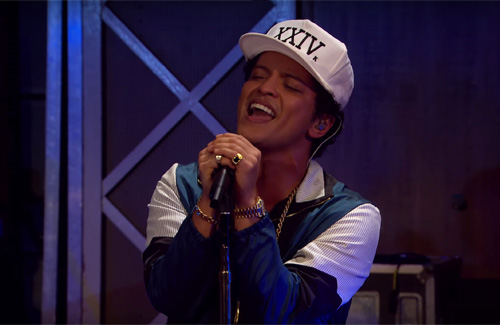 Bruno Mars gets romantic!
The Pop superstar loves to gives fans something extra during his performances, and for his latest, he shows us what could be if he kept a song for himself.
Performing for BBC Radio 1's "Live Lounge" series, Mars delivered an '80s love song feeling cover of Adele's "All I Ask," which he co-wrote, off the British songstresses latest album 25.
"This next song we 'bout to do for y'all, is a song that means a lot to me," he said.
"All I Ask" came up during Mars' new Rolling Stone cover story, where the singer explained an argument over the "this is my love" lyric.
"We were aiming for that big, diva, ballad thing – that's what I envisioned," he explained. "But 'lovers'? I don't know if anybody really says 'lovers.' 'Yeah, we're lovers.' 'This is my lover.' I was like, 'Should we rethink that?' But [Adele] was so gangster about it. She was like, 'Nope. That's what it has to be.' And she was right. It's this grand word that makes the song bigger because no one says it. Because nobody talks like that, it pops out. It's not 'what boyfriends-and-girlfriends do' – it's this over-the-top 'lovers.'"
It's likely that Mars was thinking about that argument during his performance of the song. "Sometimes I play it on the piano, and I look forward to singing that part," he said. "It's f*cking perfect."
In addition to "All I Ask," Bruno and his Hooligans delivered another rousing, fun performance of "24K Magic," the title track off his new album, due Nov. 18.