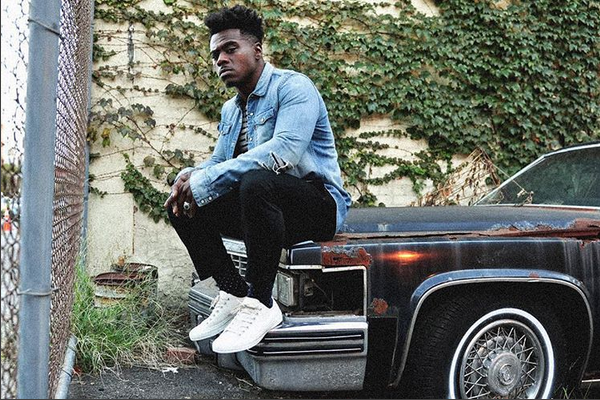 Def Jam signee Earl St. Clair may be new to the industry, but he reeks of seasoned substance. The soulful stallion's gritty vocals and impassioned presence remind us of a juke joint jam session that should never end. He's captured our attention with carefree grooves like "Good Time" and brooding ballads like, "Perfect," making us anxiously await the 2017 arrival of his debut album, Songs About A Girl I Used to Know.
Earl is an anomaly of sorts in today's music world, an old-soul who says music found him, who never intended to become an artist, but who's musical gifts and passion are like a double shot of espresso. Born in Cleveland, Ohio and raised in Alabama, Earl stumbled into making beats in his late teens, and became a local producer before discovering his vocal abilities and songwriting talents to fulfill requests for reference tracks.
"I come from an ordinary family, blessed with extraordinary gifts from God," says St. Clair … "I try to stay outside of the box, I never try to classify myself as a certain genre or a certain type of artist—I'll let the people do that. That's not my job. My job is to just make music."
ThisisRnB recently spoke with the eclectic singer/songwriter about his musical journey, what stokes his creativity, forthcoming album, and much more.
Check out the exclusive interview below.
______________________________________________________
Who is Earl St. Clair and what's the one thing that new listeners should know about you?
I believe in being myself. I'm a hard worker. I write songs about my life … I try to take the negatives and turn them into positives through my music. I just to want to be an example to people, to believe in themselves and be themselves. I'm was born in Cleveland and raised in Alabama, right outside of Montgomery. I've definitely got the southern charm with a little bit of city boy in me.
Is Earl St. Clair your government name?
Nooo, my government name is Earl Johnson II. Earl St.Clair came from the irony from the fact that where I started producing in Cleveland, the street I was working on was St. Clair. It was 149th and St. Clair. Then when I got out to California … the studio that I was working in was 6129 St Clair.
How did you get your start in music?
Music fell into my lap. I went to a family BBQ and my cousin was doing beats … I didn't quite understand it, but I sat and tried to do it and I became obsessed. I went to college and I didn't go to class … I made beats all day long; that was 2004/2005. I left college and I started making beats … one day as I was leaving out the studio, a friend who was a producer was playing this one beat and I went in there and said, "Man, let me go a couple rounds, let me mess around for a minute." And it came out amazing. It didn't sound like anything I had ever heard or anybody in that studio had ever heard, or anywhere near it at the time because it was all rap or rap-R&B going on. I sat on those records for like two years. An opportunity presented itself and I decided to go a different route because I still hadn't got to where I wanted to be as a producer. So I decided to try being an artist—if it didn't work, I could still produce—and here I am.
As a producer first, how involved are you? What is your creative process like when you go into the studio with other producers and writers?
I'm very particular about whoever I'm working with, I never step on their toes. I respect them as a producer because I'm a producer. I try to keep it as equal as possible with their creation and my creation, but still getting the idea out of my head. We'll get to working, playing some music and once they play something I like, something else will pop in my head … then once it's all in focus, I do my producer part. I go in and arrange things, I bring live instruments and put 'em on certain parts … I make the music sound like what it is when it gets to the people.
For most of us, it seems like you came out of nowhere. But your talent feels like a well accomplished artist, who's very practiced and experienced. Did you grow up singing in church?
I discovered one day I could sing—literally. Before music fell in my lap, I wanted to be a comedian. When I used to work a regular job, I'd be at work impersonating Ray Charles … just being stupid. And then one day, I went into the studio and my homeboy had that beat and I sang a song and it was actually my singing voice, but I didn't know it because I didn't take it serious. Just like producing fell into my lap, singing fell into my lap. Nobody in family has musical experience, nobody plays instruments, nobody sings—nothing like that. I come from an ordinary family, blessed with extraordinary gifts from God.
How have you developed your sound?—which is very unique to the industry today. Was it always your goal to be this type of all encompassing performer, or did you attempt other styles of music before?
[The] best word I can use is, original … It ranges from bluegrass to hip-hop; from jazz to blues; from pop to rock. I like to do everything. I pretty much do whatever music I'm feeling that day. I try to stay outside of the box, I never try to classify myself as a certain genre or a certain type of artist—I'll let the people do that. That's not my job. My job is to just make music.
From the title, it sounds like, Song About A Girl I Used To Know, is going to have people in their feelings. Tell us about that.
I still know her, but she's not the person she was when I was going through the things I wrote about. It's about when I first had my daughter and the relationship between me and her mom. It's about the money struggles as a struggling producer and trying to be a father at the same time, dealing with the love of your life dating other people due to the fact of the things I did and how I felt and trying to be successful in a very unsuccessful environment.
Piece by piece the story will unfold. It's not something you have to read into, it's right there in your face. I'm very transparent about what I put in my music."Man On Fire" is about how I felt when she moved on. "Perfect" is about how I felt thinking about the relationship in hindsight.  And there are other songs that explain how I was feeling when we first had our daughter and I didn't have the money and I was doing the best I could.
It's really the everyday stories that people go through. It's not no jewels, no diamonds, no money. It's about all of the stuff that you don't have. It's about the stuff that you want and how you feel about it. It's really heartfelt, it's gon' touch your soul, it's gon' make you dance, it's gon' make you feel good. I don't want the music to bring you down because the stories are already from that "being down" area. I want the music to bring you up and make you feel like, Aww sh*t,  I can get through this. For the most part, it's all feel good and makes your soul feel good.
Any guest producers, singers or duets?
I did a duet with Bibi Bourelly, "Perfect" which is already out; that's my label mate. I got Cee-Lo Green on the album. I have Sleepy Brown on there. Outkast is my favorite group ever, Andre 3000 is my favorite artist—Cee-Lo is my second favorite artist. I worked with Brody Brown—he just did Bruno's [Mars] whole project—he did one on the album. For the most part, it was all up and coming producers and my homies.
I believe the first time we heard you was the duet "Perfect" with Bibi Bourelly. Tell me about how that came about, because it was a great concept song.
It is. All of my songs come from my real life experiences, it's real life concepts. We were in the studio one night and we had a conversation talking about why is that when you're in a relationship with somebody, sometime they try to make it seem like they can't do no wrong. They're perfect, they're an angel—and it turned into the song. All of my conversations in the studio turn into songs, those be [sic] the best ones.
How do you think your upbringing influenced your production and now singing?
My upbringing influenced me a lot. I had my mom and my dad, they were married. My dad got up and worked hard every single day; my mom couldn't work because she had sickle cell. My mom stayed at home and she used to listen to Erykah Badu, The Isley Brothers, Luther Vandross, Kirk Franklin and Otis Redding. And then my dad, he'd listen to War, Hall & Oates, Sly & The Family Stone, all of the blues music—Muddy Waters.  Between them [sic] two, the example that they set and the music that they played, it kinda embroidered a hard-working thread in my soul. I work every single day and I try to work on good music—music that'll make people feel, not just something that they nod their head to. I remember the first time I heard, "Love & Happiness" (by Al Green). That's how music affected me and that's how I want the music that I make to affect people. I want people to be able to turn it on and change their mood … it's a soundtrack to their lives.
What projects besides your album are coming up in 2017? Any TV, movies, guest appearances?
We got NCIS [New Orleans] coming up, right before 2017 … it will premiere December 6.  I actually performed one of my new records, "Feeling Alive" and that will be available for streaming.
–Interview by Raquelle Harris
For more info visit www.earlsaintclair.com.