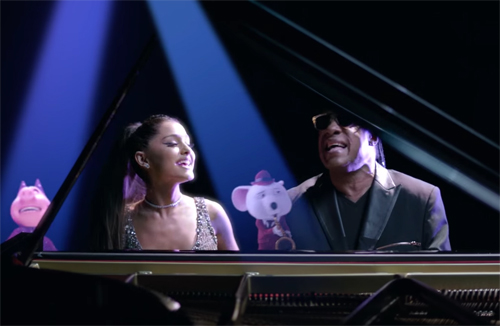 Stevie Wonder and Ariana Grande join forces to spread some "Faith" in the music video for their Golden Globe-nominated collaboration from the Sing soundtrack.
Channeling '70s style, a blonde Ari struts her stuff down a city block wearing bellbottom overalls, mirrored shades, and colorful bracelets. The incomparable Mr. Wonder stays seated at a piano in a dimly lit theater delivering a rousing performance, as he does best, before Ariana joins him for a finale that includes Sing's animated characters.
Gail Harrison, Illumination's President of Marketing and Branding, said the video is meant to showcase both artists in the spirit of Sing, which is in theaters now.
"With this video for 'Faith,' the legendary Stevie Wonder's incomparable music and timeless lyrics celebrate Sing's message of spreading joy and inspiring transformation," said Harrison. "There are few performers who embody inspiration the way Stevie does, and he and Ariana join Sing's characters in a collective celebration of the power of song."
Collaborating with the legendary Wonder was a career highlight for Ariana, who gushed over the collaboration. "I'm done now," she said in September. "I'm good now…That's it for me. Not only did I get to sing with him, but we were in the same booth…me and Stevie Wonder arm-in-arm, holding hands in the booth, singing together, laughing, having a good time."
"Faith" is up for a Golden Globe in the Best Original Song – Motion Picture category. Watch the video below.