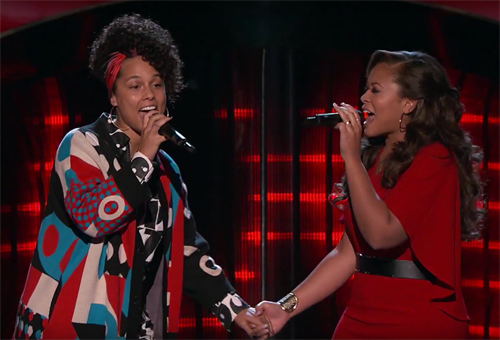 Every so often an artist whom we've featured right here on ThisisRnB ends up appearing on NBC's 'The Voice,' and we were very excited to see New Jersey native Felicia Temple do her thing during the premiere of Season 12's blind auditions on Monday night (Feb. 27).  But, what was even cooler was the impromptu duet she had with her new coach, Alicia Keys.
After Alicia, Gwen, and Blake all turned their chairs for Felicia, the 28-year-old singer revealed how in school talent shows she had referred to herself as Felicia Keys.  So, by request of Adam Levine, Alicia joined the aspiring artist on stage for a duet of her famed hit "Fallin."
A registered nurse, Temple also shared her inspiring story of how she beat cancer. "When I had surgery, there was a possibility that I wouldn't sing again," she said. "Life is short, and I want to live my dream."
Watch the special performance below.