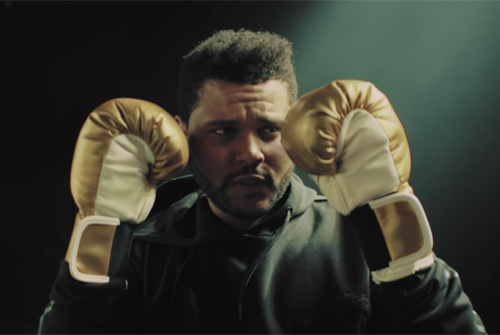 The Weeknd is taking his style ideas to the masses with his new H&M collection. In their newly released "Spring Icons" campaign video, the Grammy-winner says he doesn't believe in icons, but he does believe in iconic clothes.
"There are things that I love, people that I like, but the concept of an icon can be a cliche and I don't like cliches," he says. "Iconic clothes become icons for a reason. They're fundamental if you live them."
Filmed on Sunset Boulevard in front of the Hollywood Palladium theater and in a glass house nestled in the Hollywood Hills, the 90-second video has the singer sporting his iconic version of a suit; a black bomber jacket. "It's a piece that men can wear every day, and it's something I wear for any occasion," The Weeknd told Billboard. "For me, bomber jackets are smart, but they are also street and have a lot of attitude."
"When I chose the pieces for Spring Icons, I was thinking about the way men dress today. It's about finding the right balance between sharp and casual, with all the details that count," explains Abel.
The collection will be available on March 2 in every H&M store that carries menswear, as well as online. The Weeknd is currently touring Europe on his "Starboy: Legend of the Fall World Tour," which will launch in North America in April.
Watch his "Spring Icons" video below:
via Billboard