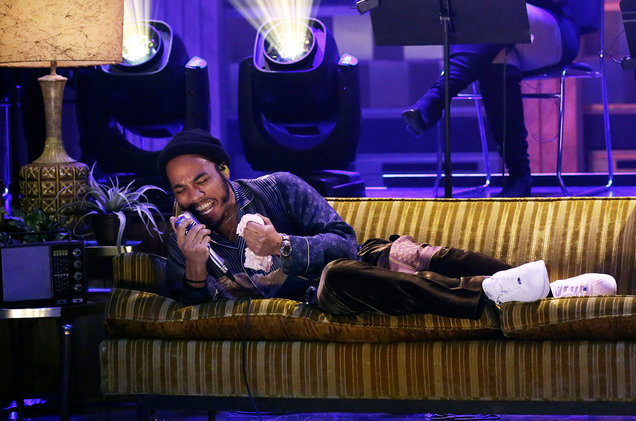 Anderson .Paak got caught between two lovers on Valentine's Day.
Following his Grammy Awards performance with A Tribe Called Quest on Sunday night, the multi-talented artist flew to New York to perform on "The Tonight Show starring Jimmy Fallon" on Tuesday night (Feb. 14), with his side group NxWorries.
As his partner/producer Knxledge played on a sampler off to the side, Paak — wearing Louis Vuitton pajamas — sat on a couch in a living room setting singing their song "What More Can I Say?"  Anderson first gets confronted by an angry girlfriend who throws another woman's underwear at him. As he sings about the struggle of maintaining their relationship, a second lover comes in throwing a drink at him.
Anderson croons the soulful tune while backed by a string section and Kxwledge's laid back beats. "It's always the simple things, I'm caught up again / I wish it wasn't hard for me," he sings.
Check out the theatrical performance below.