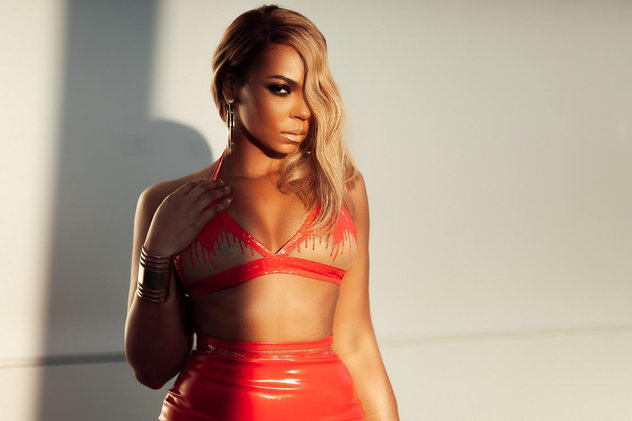 It's been nearly 15 years since Ashanti released her self-titled debut album in April 2002, which was led by the infectious hit single "Foolish," that contained a sample of DeBarge's "Stay with Me" and features elements from the remix of "One More Chance " by The Notorious B.I.G.
With all the projects that she is currently working on, Ashanti recently spoke with Billboard about various topics, including her appearance on the digital show Crashed, performing with Ja Rule once again, and more.
During the conversation, Shanti revealed some interesting facts about "Foolish" and her career at those times, including how she was not even signed to Murder Inc. or Def Jam when the single was released and on the radio. She also explained how they were able to get a verse from The Notorious B.I.G. for the official remix, and revealed that Jay Z was going to jump on the main version but they decided that she could carry the song solo.
Check out excerpts from the interview below.
Billboard: It's been almost 15 years since you released your debut album Ashanti. What's the best memory you have recording that album?
A. I would say one of the best memories would be when I wrote the bridge for "Foolish." First of all, I was surrounded by rappers. I was with Irv and those guys, and no one believed that I wrote my records. They used to make me write at what used to be called Crackhouse Studios on Mercer and they used to make me write in front of them, because they were like, "There's no way" [I was writing these songs]. So when I wrote the bridge and Irv came back and he heard it, he was screaming, running around the fifth floor of the Crackhouse. Everybody was like, "Oh my God. This is crazy."
I don't know if this story ever made it out, but, initially, Irv had called Jay Z to come and rhyme on the bridge of "Foolish." Jay was in motion. He was in the car and on the way to the studio to record it with me. Then Irv called him back like 10 minutes later, like, "Yo. Never mind. She needs to do this by herself. I don't wanna do typical R&B songs featuring a rapper. I want to do something different. She's going to hold this whole record on her own." That's what we did.
Billboard: Speaking of "Foolish," you actually were able to grab The Notorious B.I.G. for the remix to that record. With it being the 20th anniversary of his death in a few days [March 9], talk about how special it was for you to have Biggie on your remix.
A. That was like insane. So many people were like, "How did she pull that off?" It was crazy. This is another story. This is funny. I remember 7 Aurelius did the beat. I was at Red Lobster with my then-boyfriend, my ex now, when they played the beat for me over the phone. They were like, "Yo, you're gonna get a verse from B.I.G." And I remember, I was in Queens. I had to drive to the city to see what was up and what was gonna happen. Originally, Charli Baltimore was supposed to do the verse. We were able to get B.I.G. Irv was like, "Nah. This is gonna be all for B.I.G. This is gonna be crazy."
So me and Irv went to Puff [Daddy]'s office to meet with [writer/songwriter/producer] Harve Pierre. Harve had the jack with the vocals, and was like, "Yo. You got it. We're gonna do it." I was like, "Oh my God." Irv went and grabbed the jack and put it in his pocket like it was a piece of gold. He ran out of the office, ran back to the studio, loaded the vocals up, matched everything, and it was just crazy how everything just matched up. It was perfect and it just flowed. It was great. Puff co-signed it. He loved the record. It's funny, because you know, I was supposed to do a deal with Puff before Murder Inc. I was like 14 so we had a little bit of history already. It was an amazing feeling to have a B.I.G. verse on my first record as the official remix.
Billboard: If you could have a conversation with your 21-year-old self, what would you tell her?
A. I would say to have even more confidence in yourself and be patient, because I promise you, if I had known what I know now about the way the politics and the contracts work… You know, I was never officially signed. I didn't have a deal when "Foolish" was on the radio, so I wasn't signed to Murder Inc. I wasn't signed to Def Jam. I didn't have a deal at all. I had three records in the top 10 of the Billboard charts without a record deal. [Laughs] If I would have known then what I know now, I would have held out for a few more ends. We were negotiating the deal. It was a holiday. I think we were going into Christmas and I was in the supermarket. It was me and my mom in the grocery store and two of my attorneys, Irv and two other people were on a big conference call. I just remember being in the grocery store and people were like going back and forth on the contract because I wasn't signed. It was crazy.
Read the full interview here.