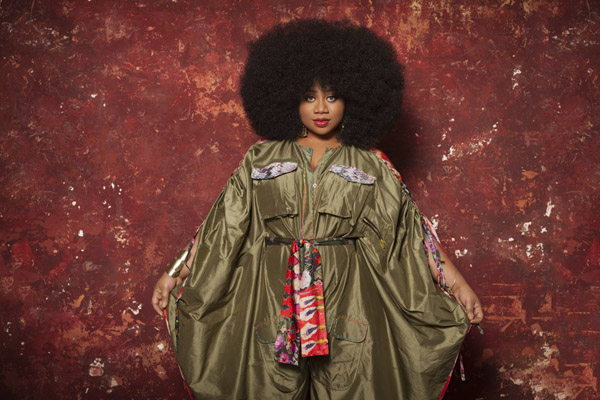 Captivating listeners since the age of six, La'Porsha Renae is poised to carve her niche in the industry. Whether the soundscape is pop, rock or R&B, her powerhouse vocals exude infectious passion. Her debut album, Already All Ready, due out March 31 on 19 Recordings/Motown Records, reflects her complex yet refreshing artistry.
The bold first single, "Good Woman" released last fall, reminded us of why she is our favorite "American Idol" runner-up. Her empowering anthem, "Battles" was tapped as the theme song for the gold medal-winning U.S. Women's Gymnastics team at the 2016 Summer Olympics in Rio. This dynamic singer/songwriter is already a force that is felt soul deep.
ThisisRnB recently caught up with La'Porsha right before she started her radio promo tour. She spoke to us about dealing with those who try to bring you down, details about her forthcoming debut album, the "American Idol" fame and experience, her family, and more.
Check out the interview below.

Congratulations on your album! Tell us what Already All Ready means.
It means that I didn't have to—I don't have to change anything about myself to become what I want to become, or to pursue my art. A lot of times, the industry or society in general will have you thinking that you have to change your look to even get a shot. So Already All Ready is about women and men, alike embracing who they are, what they are, and going for it, just as they are. If you stay ready, you ain't got to get ready.
Did you write all of the songs on the album? What is your favorite track?
I wrote on most of the songs. The most I wrote on was "Good Woman." My favorite track is "Cover Up," it's a song that Diane Warren wrote. I dedicated the song to survivors of domestic violence and rape trauma syndrome.
We admire artists who are true to themselves. Who or What instilled that in you?
I think it was all those years of being rejected and talked about and teased; everything built a thick skin.  I learned from my mother, who had long talks with me. While growing up, what made me different was one, I wanted to wear my natural hair; two, I liked to write a lot, I liked to sing and I was kinda reclusive. I learned to love myself in a nutshell.
The album cover is everything. Was it your idea?
Yes, it was. The album cover represents all of my past insecurities, and everything I advocate for. I represent beautiful, full figured women, single mothers and natural haired women, and black lives. My team was iffy about it, but once I explained what it meant to me they were all for it. I've been getting good reviews on it, so I'm really proud of it.
How old is your daughter? She's precious. 
She's walking, she knows her ABCs, she knows her colors, she knows her shapes and she knows how to count from 1 to 20. She's very smart. Oh, and she's potty-trained now, I'm really excited about that. She's only two.
Do you feel a responsibility as an artist to be an activist?
Oh yeah, that's part of what made the artists back in the day so powerful and great is the fact that they talked about things that were going on. If you're given a platform or an opportunity to have a bigger voice, then you should use that to its full capacity. That's how you get action and change, you have conversations. Since music is a universal language, then that's a big conversation by a lot of people that can make a lot of change.
Coming to the realm of American Idol, and going through that whole process, being in the spotlight, was that culture shock for you?
You know, it didn't hit me until after Idol. I just made sure to stay in my bubble. Eventually, when I started getting noticed everywhere I went it was like, wow. I would forget that I was being watched by the nation. I think I'm still adjusting to it. But, yes, it is a big culture shock to say the least.
Who are some artists that you would like to work with?
I would like to work with Missy Elliott. I like how different she is.
You survived a domestic violence relationship and went through a divorce. Is that part of what empowered you to embrace who you are?
It definitely was. Especially in dealing with some of the cruel things that people may say about you or think about you. The fact that I went through what I went through with my ex-husband—this stuff is candy to me. That was God's way of preparing for this. He made me learn to appreciate and love everything that my ex-husband hated about me. He did[ex-husband] try and bring me down, but like my mother always says, 'Those who try to bring you down are already below you.' I had to ponder on that and realize that anyone who's after you to bring you down is intimidated by your greatness.
–Interview by Raquelle Harris
La'Porsha Renae's debut album Already All Ready is due out March 31, it is available for pre-order on iTunes now!