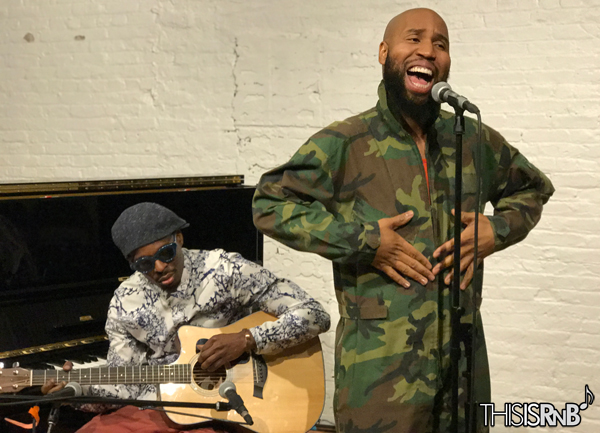 Often times, reaching a certain level of mainstream success in the music industry means you will encounter many individuals who have motives that are primarily business driven. These situations can lead those with power to persuade an artist to attempt to recreate a past success or follow certain trends, in effect constraining their creativity and artistry.
Grammy Award winning collaborators Claude Kelly and Chuck Harmony experienced such issues often in their storied careers, which included working with everyone from Whitney Houston and Michael Jackson to Rihanna and Bruno Mars, and collectively selling over 25 million records.
In 2014, after becoming fed up with constant requests to create "hit singles," Claude and Chuck decided to experiment together creating the most authentic, truthful songs that just came naturally. The result inspired them to take the risk of stepping out of the studio and into the spotlight as a new duo — Louis York.
Named after their respective hometowns (New York & St. Louis), the duo released their first EP, Masterpiece Theater: Act 1, led by the single "Clair Huxtable," in 2015.
After a successful introduction, Kelly and Harmony took their project even further by forming an independent company called Weirdo Workshop, where they would work with other artists who were looking for creative freedom. In the fall of 2016, Louis York returned with their sophomore EP, Masterpiece Theater: Act II, led by the single "Don't Play."
As strong supporters of Claude and Chuck's work separately and together, we were excited to catch up with them earlier this month for a special ThisisRnB Sessions performance in Brooklyn.
During the raw, acoustic set, Louis York showcased their authentic artistry and outstanding song writing talents, performing their songs "Hipsters," "Things I Should've Said," and "Good Drinks, Dumb Jokes."
Check out the full performance below!

Louis York – Hipsters
Louis York – Things I Should've Said
Louis York – Good Drinks, Dumb Jokes
Masterpiece Theater: Act I & II are available now! Louis York's debut album is coming soon!