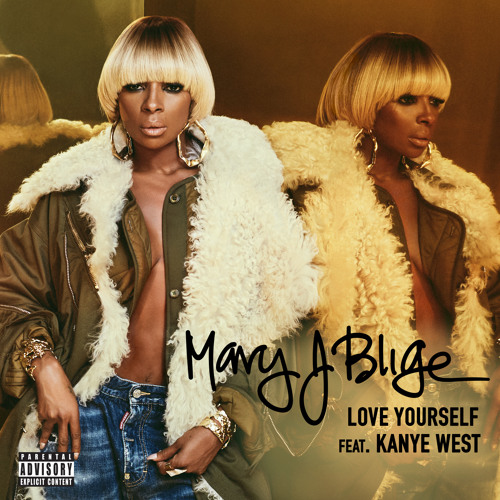 It's been a busy week for Mary J. Blige.
The R&B Queen revealed the album cover, tracklisting, and release date for her anticipated new album Strength of a Woman, opened up about her public divorce to Angie Martinez on Power 105.1, and now returns with her much-anticipated collaboration with Kanye West on the album's opening song, "Love Yourself."
Over soulful horns, the newly-single songstress shares an important lesson on self-love. "You gotta love yourself if you really wanna be with someone else," sings MJB. "You gotta feed yourself before you feed somebody else / You gotta stay open and don't be foolish / 'Cause everybody don't mean you well."
During her interview with Angie, Blige opened up about the collaboration. "'Love Yourself' is hardcore hip-hop soul," she said. "It's me talking to myself when I was in it. 'Don't give up. Love yourself.' When you hear the words, you'll hear it…I'm a fan of Kanye. I've always loved Kanye. I've always wanted to work with Kanye. I reached out to his manager, got a number on him, began to text him back and forth about how I really wanted him on 'Love Yourself.'"
Due April 28, Strength of a Woman features additional appearances from Kaytranada ("Telling the Truth"), Prince Charlez ("Smile"), and Missy Elliott, DJ Khaled, and Quavo ("Glow Up").