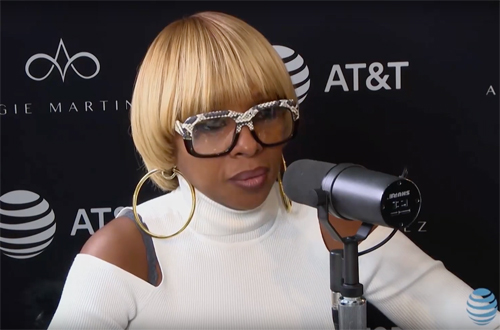 Mary J. Blige is opening up like never before.
In a brand new interview with Angie Martinez on Power 105.1, the R&B Queen shared some very personal details and information about her divorce and everything that she is going through after splitting up with her husband and manager, Kendu Isaacs.
Just yesterday, Mary revealed the tracklisting to her anticipated new album Strength of a Woman, and now the resilient songstress is explaining some of the inspiration behind the music.
"I'm still in it. It's just getting worse. It really is not getting better," she explained. "It's just more bullshit, more nonsense, more lies, more denial, more stupidity… It's because of what's happening in court. This is why everything is bad. He has the power to make it all go away, if he stopped demanding what he's demanding. That's not fair to me because he doesn't deserve what he's demanding. Why do I have to pay you? Why do you think you deserve this amount of money? Why do you think you deserve any money? You didn't make me. You're not God. I have to pay you for being my husband and for being my manager? You say you helped me. Yeah, you helped, but you didn't build this career. I was Mary J. Blige before I met you. That's not fair of you. This is a sickness."
The Queen of Hip-Hop Soul went on to explain why she doesn't feel like she should pay Isaacs what he's requesting. "No disrespect to his family at all, but I'm not responsible for them," she added. "I don't have any children with you and I'm not responsible for anything else with you anymore…I don't owe you anything. It's not fair. This is very mean to just keep sitting on this and demanding this type of money."
Conversations with Isaacs haven't helped. "When I did talk to him, he wasn't talking sensibly," she explained. "He believes that he's entitled to this. I can't even talk to you no more."
The relationship came to an end after 16 years all together, including 13 married. Why? Mary says it was the "overwhelming disrespect" that pushed her over the edge.

"You're too familiar. You're disrespecting me and I know, I can sense that I'm not what you want anymore," she said. "You start to realize that this man doesn't want you and he's just gone all the time. You're by yourself in the relationship, when you realize you're by yourself in the relationship and you're just suffering through it, now it's time to do some investigating…a little bit…and I was getting things here and there but I didn't have no full proof. When I got the proof, I didn't have to investigate it, it just showed up. It just was revealed. Bam! This is what he's doing. I even gave him a warning."
This has been such a trying situation, she says, that she doesn't feel like she will get married again. Nor does she think she will become this involved with another person. "I give way too much," she said. "It's like, 'Just take everything.' But I'll never do that again. I'll never give that much ever again. I'm sorry…He fucked it up for everybody."
Nevertheless, Mary is coming through the other side with a new book, due soon, and a new album, Strength of a Woman. "It's healing time," she said of the project. "A lot of us need to get through some stuff that we don't want to tell nobody about but I'ma tell."
Strength of a Woman is due out April 28, with features from Kanye West, Missy Elliot, DJ Khalid, Quavo, Prince Charlez and Kaytranada. Read some more highlights from the interview below.
ON HER KANYE WEST COLLABORATION: "The music is good. 'Love Yourself' is hardcore hip-hop soul. Kanye's on it. I need you to hear it. It's me talking to myself when I was in it. 'Don't give up. Love yourself.' When you hear the words, you'll hear it…I'm a fan of Kanye. I've always loved Kanye. I've always wanted to work with Kanye. I reached out to his manager, got a number on him, began to text him back and forth about how I really wanted him on 'Love Yourself.'"
ON MUDBOUND: "It went to Sundance in January and it was the No. 1 show or film and out of 133 breakout stars, I was one of them. It's such a heavy movie. It's based in the '40s. It's about black and white people learning to love each other in hard times and realizing we really need each other…You're not even going to recognize me. I'm weave-less, nail-less, lash-less, make-up-less. Nothing."
ON HILLARY CLINTON INTERVIEW: "Someone took a small piece of something that I was trying to express to Hillary because I'm a artist first, I'm not a journalist. So what I was trying to express to her as my first time being a journalist, I was trying to express to her the words in that song and how every black woman in America feels sending their kid to school. You know, so she could feel it. But that was just a piece of the interview. I did a whole interview with her because what I wanted people to see about Hillary, I wanted them to see her as a woman and not a politician. A grandmother."
ON CLINTON INTERVIEW BACKLASH: "The internet was flooding with "it's good," but you still got the stupids and it's getting meme'd to death. But it's cool. I survived that too."
ON PRESIDENT DONALD TRUMP: "I tried. I really wanted [Clinton]. I did not want this…I didn't want this to happen."
ON MARY DANCE MEMES: "Ah, let me just say this. Everybody don't do it right. They be thinking they doing it. I don't dance like that. My shit is swagged. My shit is smooth."