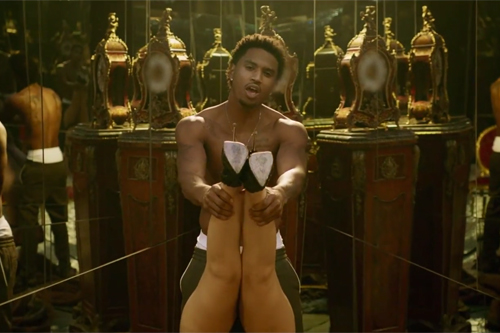 Trey Songz returns with his raunchiest video yet in the "Tremaine the Playboy" saga.
The fourth installment of the series acts as the premiere of his sex-drenched jam "She Lovin It," which finds the R&B heartthrob in some extremely provocative positions with his lady in a glass room.
"This girl is bad, bad, bad / Got me all on her ass / She say she love it when I get her off," she sings.
The latest episode of "Tremaine The Playboy" picks up where the last one left off, as Trey continues his complicated relationship with his ex. This time, he wakes up in bed with his girl before having a pillow fight, which leads to a steamy make-out session, and some intense foreplay for the camera.
The singer's forthcoming album Tremaine is due out March 24. It has already spawned the tracks "Song Goes Off," "Playboy," and "Nobody Else But You."
Check out the NSFW video of "She Lovin' It" below.