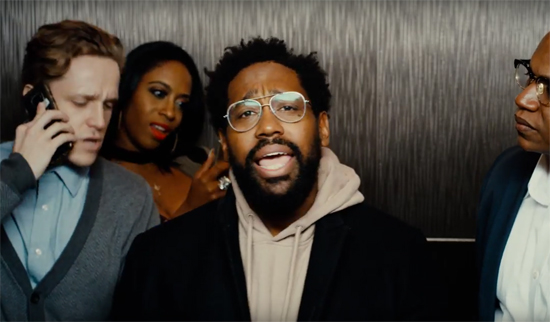 Singer/songwriter/musician and Maroon 5 keyboardist, PJ Morton, has premiered the visuals for his brand new single "Claustrophobic" featuring rapper Pell.
In the video, PJ is stuck on an elevator as more and more people crowd into the small space, giving him advice on what to do with his career, critiquing his look, and even questioning his street cred.
Speaking with Billboard about the song and video, PJ explained: "I wrote this song while feeling like I was being smothered by everyone else's opinions. I was starting to lose myself and this was my song to fight back. It's the anthem for all the dreamers who may not fit in."
The video concept came to Morton a couple of years ago. "I wanted it all to be shot in an elevator where it would continue to get more and more packed. It was my take on how my brain kept getting more and more filled with others' ideas and opinions."
"Claustrophobic" is the first single off of PJ's upcoming album, Gumbo, which is due out April 21. The LP features appearances by BJ The Chicago Kid, Pell, and The HamilTones.
Check out the video below.