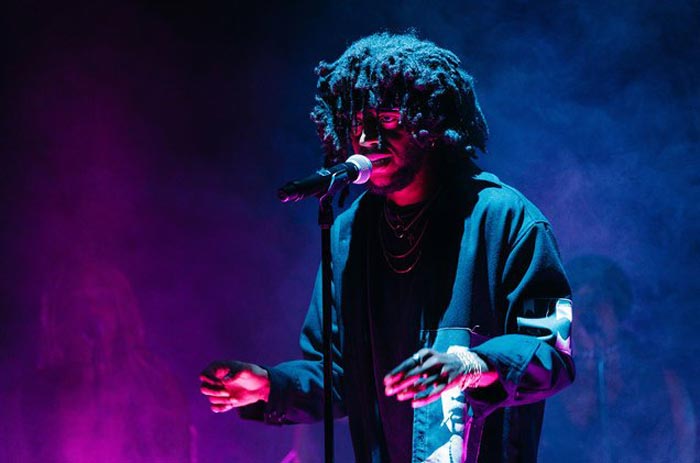 "I wanted a girl who was down to earth / But she want the earth and the sky."
Atlanta's 6LACK continues to get more shine, with his first late night TV performance. On Thursday night/early Friday morning, the singer/rapper hit the stage on "The Late Late Show with James Corden."
Standing on a small platform stage with digital light beams, 6LACK performed his growing hit single "PRBLMS." Backed by a live band, including violinists, and multiple background singers, he delved into the personal account of a relationship gone bad.
Previously speaking about the song to Genius, 6LACK explained: "I remember it like it was yesterday. I used to pride myself on not dealing with nobody crazy, as far as relationships go. So I would always be like, 'I've never dealt with nobody crazy.' Because I just don't attract that. For once, I got into a situation where everybody was like, 'Don't do it.' And I was like, 'Nah, I got this. This is what I do.' And I did it, and it just spun out of control. 'PRBLMS' was born. Everything in the song was verbatim what I was dealing with at the time. These were direct lines, literally from text messages to actual arguments and conversations."
The performance was part of Beats 1's new "Up Next" series, which includes a sit-down interview with host Zane Lowe. During his conversation, 6LACK revealed how he got his name. "I've had the name since middle school. So it's been a long time, I've had the same name forever," he said. "I've been 6LACK to people's parents to grandmothers to cousins, I've always been 6LACK. And it was just from growing up on that side of town, that was Zone 6, and Zone 6 is a part of what shaped me."
Check out the performance and interview below.