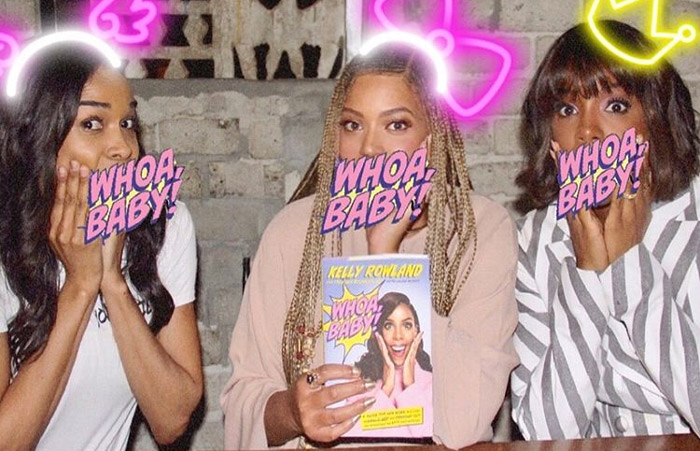 Beyoncé and Michelle Williams recently celebrated with their good friend Kelly Rowland for the release of her first book, Whoa, Baby!.
The trio posed for a group photo with their hands to their face, like Kelly does on the cover of the guide to life at child birth. Sitting in the middle, expecting mommy Queen Bey held up the new book with pride.
The pregnant superstar showed off her growing belly in a series of new photographs on Instagram. Looking stylish in knee-high boots, sunglasses, and a flowy dress, 'Yoncé continued somewhat of a trend that she's been showcasing on social media.
This marks the first time Bey, Michelle, and Kelly reunited in public since November, when the trio played along with the popular Mannequin Challenge.
Unfortunately, the ladies haven't let on to any chance of a DC reunion. In April of last year, Kelly said the girls haven't discussed it yet. "We haven't talked about it," she said. "I'll see Michelle tomorrow or the next day and the last time me and Bey were together was like two weeks ago when I stopped by rehearsals. We talk about everything else. We really, really do. We talk about playdates with the kids and vacations and new opportunities."