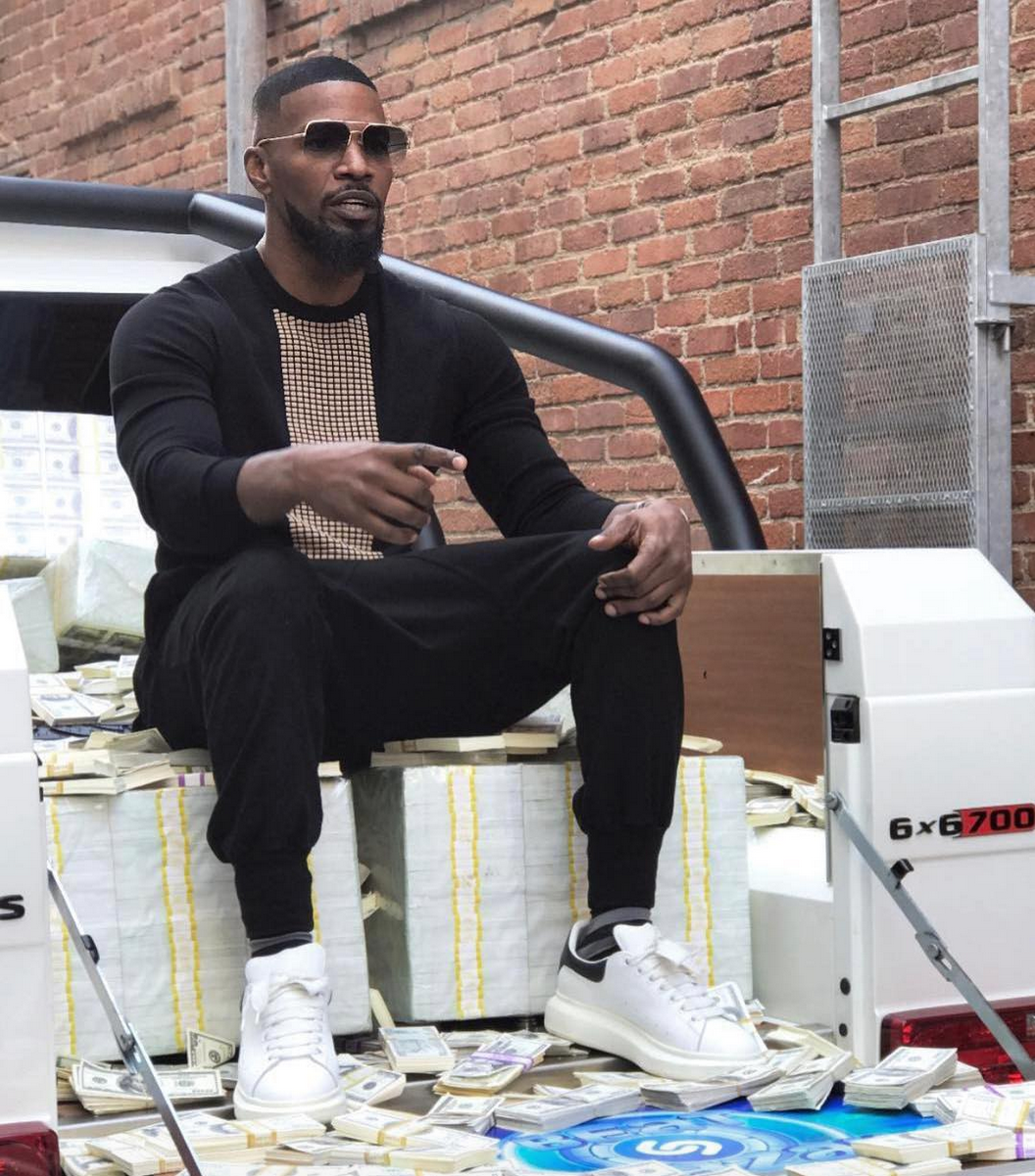 Ever since we first hear about the new game show "Beat Shazam" we were excited. And with Jamie Foxx as the host, it's shaping up to a be a smash hit–pun intended.
The multi-talented entertainer has been looking to get back into television, and he has been looking to do a game show like this for some time. In fact, Foxx attributes the concept of the show to some of the house parties he has thrown at his own California estate.
Set to air on FOX this summer, Jamie recently spoke with Billboard about how he got involved in the show, his experience learning to be a live game show host, the basis of how the competition will work, and if he himself can beat Shazam.
"We did test episodes that have been fun and a little bit tougher than I thought. I thought I was gonna come in and wing it, but I actually had to prepare," he says. "You really have to know the show, and there's so many things I didn't know you couldn't say. … After all the contestants would leave, I would have my kid and her friends and we'd play the game, so I just keep practicing."
Why get involved with this show? What appealed to you about it?
What it was is that everybody has shows — J.Lo has a show [Shades of Blue], Kevin Hart has a show [Real Husbands of Hollywood], The Rock has a show [Ballers] — and I've always been a TV person, right? And we'd been trying to get the show together for the past couple years with [executive producers] Jeff Apploff and Mark Burnett, and it's a perfect fit for me because I come from music, we dig the fun, I'm always throwing parties, and so that's what we're gonna do. We're gonna have a party atmosphere, but we got a game show in it with the app Shazam, so it all sort of made sense.
It's fun; I called some of my friends to come hang out. Like, a good friend of mine is [New York Giants wide receiver] Odell Beckham Jr., so I said: Listen, while we're doing this show, why don't we do Odell Beckham's playlist? Because he's got the great energy. So he said he'd come out. Or if it's Vin Diesel, if it's Drake or if it's whoever, so we have that aspect. But then what we learned when we started doing the show is the contestants, they're colorful and crazy and kooky. One dude said, "I want to win this money by guessing these songs because my wife, we never had a honeymoon." So it's got all the ingredients and it gives me the opportunity to come back to TV and have fun.
Do you need to do anything to get into your game show host character, or is that just kind of Jamie Foxx normally?
No, it's just sort of like me. I feel like I've been living a game show my whole life. Because the aspect of it is, like, I would do this party at my house and I would call it an On My Balcony Party where I would have like Drake or Diddy or someone like that host and I'm sort of emceeing the party. It's basically the same muscle; it's just like now it's wrapped up into a cool game show format where all the music being played and the people having to guess the songs — it's really dope.
Can you give a rundown of how the show will work?
Basically each song is played by a DJ, and if you can guess it they give you money — $10,000 in the first round, and it goes up. The team that has the least money at a couple of rounds, they leave, then the remaining team will battle against Shazam. During the show, the contestants have multiple-choice answers, but when you're going up against Shazam, it's just one song. So you choose a category, Shazam will say how fast it takes for it to recognize the song — 4.8 seconds — that means you have 4.8 seconds or less to guess the song. If you can do that and beat Shazam six times, you win the big money. But as the game progresses, things get tougher.
Now, while all of that is going on, the audience is dancing to their favorite No. 1 songs. When we did some of the mockups, there were people in the audience … these black guys are in the audience and I'm thinking, "Oh man, when the rap category comes on, these guys are gonna go wild." And I'm profiling already. But every song that came on — it was like Hall & Oates — they knew all these different songs that were classic rock, and then we played something from Nate Dogg, "Regulate," they didn't know the song, but this white kid over here, he knew the song. So as we're doing the song, the audience kind of comes alive and we see them and sometimes we'll branch out and let the audience members dance, and of course the contestants will dance, and they'll give their testimonies and things will just be going and things like that will pop up — not getting in the way of the game show, but there will be things like that.
You mentioned involving some of your celebrity friends with the show. Will you be surprising the audience with special guests then?
Yes. There's a piano on the set, and I say I've got a "magic piano" and sometimes when I sing on this piano, whoever I'm singing, the artist will come out — maybe — so I'll sing, "Where are you now that I need you?" — you never know, [Justin Bieber] may come out. Or Barbra Streisand, or Drake, or anybody that I've hung out with or worked with. You never know who might stop by, but that's just the element of having fun. And then there's certain little things that we'll do where I will be dressed as the genre or dressed as the character or do a funny idea of the character: As opposed to The Weeknd, I'll be dressed as The Week Day — I'm five days of entertainment; The Weeknd is only two days. Things like that.
Do you think you could beat Shazam?
I could beat Shazam. On a couple of them, especially when it's at a 5 or 4.8 [seconds] or something, give me some time. But it definitely gets down to where people will hit that button because they want to be fast and they'll know the song but they can't get to the title. And then we have this thing that's called a Fool's Gold. The Fool's Gold is when you hear a lyric and you think that's the title, but the actual title is something else.