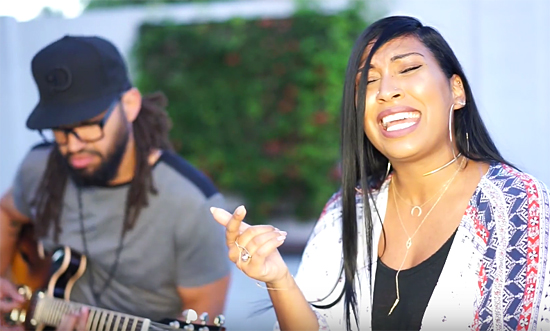 For the third week in a row, Melanie Fiona delivers a unique acoustic mash-up, taking on a popular record of the moment and mixing it with one of her own hits.
Following Joey Bada$$' "Land of the Free," and Khalid's "Location," this week Mel covers Kendrick Lamar's "Loyalty." The Rihanna-featured track is a standout off the rap star's acclaimed new album DAMN.
Once again accompanied by a single acoustic guitarist, the soulful songstress sits outside with birds chirping in the background. She takes on the melodic record with her own beautiful tone, delivering an emotional performance with rapid fire vocals.
"Tell me who you're loyal to? / Does it start with your woman or your man? / Do it end with your family and friends? / Are you loyal to yourself in advance?" she sings. After dipping into "It Kills Me" she ends the mash-up by returning with a request for 'loyalty.'
Check out Melanie's latest acoustic performance below.