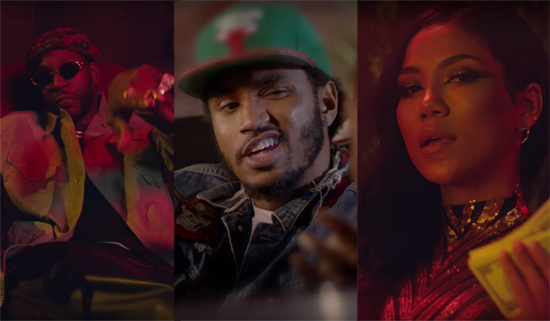 The vibes are super strong in the swaggy new video for 2 Chainz recent star-studded collaboration, "It's A Vibe" featuring Trey Songz, Ty Dolla $ign & Jhené Aiko.
The Atlanta rap star kicks off the visual in a sexy lounge club where he enjoys the company of some beautiful woman and a live band. The next vibe brings forth Ty Dolla, who sings his portion in a strip club kind of setting. Meanwhile, Trigga plays an alluring passenger in a drop top convertible, kicking game to a model.
"Okay, so I've got the ambiance just where I want it," raps 2 Chainz. In a candle-lit room, he raps for a couple of lingerie-clad models. Then, wearing a mask, he transitions into a darker vibe, where chains fill up a dark room with curvaceous women dressed in black.
Jhené's vibe is also quite dark, as she plays the role of this mysterious location's boss. Counting money while getting her feet massaged, she sings about busting it wide.
"It's a Vibe" is a single off 2 Chainz' forthcoming album, Pretty Girls Like Trap Music. Initially set for release this month, the album has been pushed back to an undetermined date.
Check out the video below.