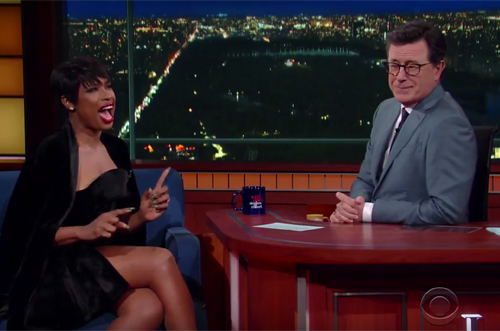 On Monday night (Apr. 17), Jennifer Hudson made an appearance on 'The Late Show with Stephen Colbert' for an interview on all her latest happenings.
Once a contestant on "American Idol," the Oscar and Grammy-winner opened up to Stephen about the surreal feelings of being on the opposite side of the stage as a judge on "The Voice" UK.
Sharing her advice to hopeful artists, she said: "Know that whether you win or not, you still have the prize, which is your talent, and you can still make it."
Earlier in their conversation, J-Hud revealed how she used to spend Easter Sunday at her church in Chicago, and she took the whole audience there with a rendition of her favorite hymn, "Talk About A Child."
Additionally, Jenn talked about her role in Adam Sandler's new Netflix comedy film Sandy Wexler, where she plays a rising star singer in the '90s, who is managed by Sandler's goofy character.
Watch Jennifer's visit to 'The Late Show' below.