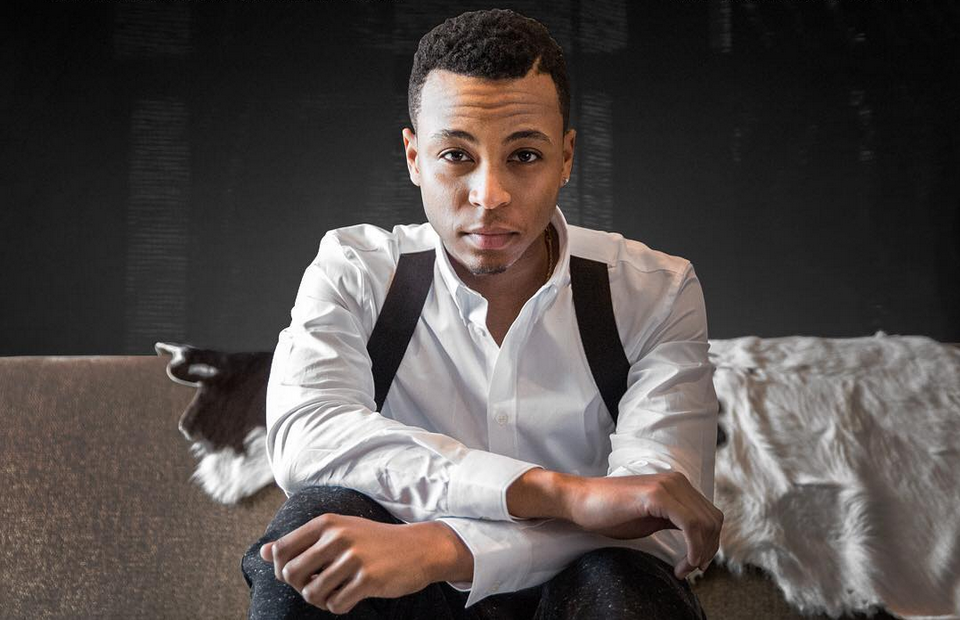 Kevin Ross has us woke.
As the first new Motown artist to reach No. 1 since 2010, the singer-songwriter is blazing a trail that relies entirely on authentic artistry.  The D.C. native's debut album, The Awakening, is one of the purest R&B albums to be released in recent times.
Ross already has an impressive repertoire, yet he is  humble.  During an exclusive new interview, he gave ThisisRnB a glimpse into his mature and passionate persona.
Along with discussing his debut album, our conversation led Kevin to share his thoughts on the state of R&B today, his dream collaboration, and what he would be doing if he wasn't giving us our entire life with his silky smooth vocals.
Check out the interview below.
Your music is both nostalgic and new. Your influences are obvious. How does it feel to be on Motown Records? How does it feel to be a part of that legacy?
It's truly an honor to be a part of the Motown legacy. It's kinda ironic that I am a part of Motown now because back in high school, every spring, we did a Motown Revue. That's where I first realized that I wanted to sing, during high school and I had a chance to play Stevie Wonder in the revue. And just the reaction that I got from the crowd and just the love of it and the energy … that's when I realized that I loved to sing and this was something that I wanted to do for a very very long time.
For me, there's really no pressure behind it because we're redefining soul for what it is for our generation and our time. I consider myself a bridge between nostalgia and progression, really understanding where I'm at, at the present, while I'm still trying to move the genre forward and pay homage to people who paved the way for artists like myself.
You and artists like BJ The Chicago Kid are bringing real R&B back. How did that collabo happen?
It was really organic. I've known BJ for a couple years now and we had always said that we were gonna work together. After I finished the original version [of "Be Great"], I was like man it'll be really dope if I did a remix. It was a producer on Instagram who had already created an idea … so I expounded upon the track and did my verse. When I got out to LA, I played it for him and he said, "Yo, this is hard." And I was like, "I think we should both be on this kind of record." We're both very musical, we both come from a very soulful background so you expect us to be on a soulful record. But I think it's a great contrast for both of us. It wasn't necessarily about us singing, but more so about the message and that's what I wanted to translate.
Do you feel you guys are filling a void—artists like you, Anderson .Paak, BJ The Chicago Kid, Ro James?
Absolutely. I definitely think there's a resurgence of R&B. I think that 25 and up, as far our generation, it's more than just the 'turn up' for us, we're actually dealing with real life experiences … things that are happening within society that we can't turn a blind eye to that's directly affecting us. It's not affecting our parents, it's affecting us. We're going through the changes and sometimes partying is not always what we want to hear. So I felt like there was definitely a void and a gap missing. It does take a village, it does take a group of artists that can create the spark.
If it wasn't for Ro James with "Permission" kicking the door open in Urban AC then transcending into Urban, that made a way for songs like, "Long Song Away." If it wasn't for artists like BJ The Chicago Kid hopping on hip hop records and making himself a hip hop figure, in a sense where he's effective within the hip hop community as if he does rap, but he is a singer also and he's necessary for the culture … for what it stands for. So every time you hear him on a Kendrick record, or every time you hear him on a Kanye record or a Dr. Dre record, you have to give respect and know and understand that he's keeping the genre alive through the avenues that he's using. I'm championing these artists just because of the fact that we're all we got.
Describe your creative process. Do you have a ritual? What's your muse?
It's as it moves me. I believe that melody is king, so I always start with the melody first, then I go to the piano and hash it out. I make up a rough track for me to record and develop the song, then I'll go back and fine tune the track. I'll take it as far as I possibly can, sometimes that's to completion, sometimes I have to go and get one of my homies to help me finish it. It's also great for me to collaborate with other producers. How are you feeling? How are we feeling? What are you listening to? What am I listening to? How can we merge both of our worlds together? God gave us the gift, let's just create.
You definitely have a gift. You've already collaborated with Ne-Yo and Trey Songz and you've toured with Maxwell. What's next? Who else would you like to work with in the future? Who is your dream collabo?
My dream collabo is with Stevie Wonder. I think it would be a great synergy. I have so much respect and adoration for him because he's my favorite artist. Just to be in there to see what he comes up with, what I can contribute.
Your father's side of the family is full of singers and musicians. How many instruments do you play?
Just two for now. I started learning piano in college and I just picked up the guitar a couple of years ago. "Long Song Away" is the first song I played and wrote to and recorded on guitar.
If you weren't singing and writing, what would you be doing?
I would be in education. I think that giving back to the community and giving back to the next generation is very important. My experiences will not be in vain because everything I'm acquiring and everything that I'm learning, I definitely want to make sure that the next generation is sharper—better business men and women. And that they stand firm on something they believe in.
What are some future ventures for you?
I will be involved in education in some way, shape or form. I won't say right now, but I will involved in education as far as I'll start with going back home and developing a school for the arts. I want to develop an arts program for young aspiring—not just musicians, not just people within the entertainment business. I feel like there's a missing outlet for kids, especially within my city in particular, as far as them understanding how necessary they really are, how special they really are. These kids are growing up not understanding how significant they are to the fabric of life.
If you don't understand your significance, you live your life as if there is no significance to it. Every single person has something to offer towards the world. If you can tap into it early, then you develop the discipline that a lot of your peers may not have the luxury to have. So I'm trying to get that number up as far as making sure that these kids know early, what they like, what they're passionate in. The education system is so overcrowded with 30-40 kids inside of a classroom. That's 30-40 different minds. One textbook is not going to show the appropriate way of how each mind is going to work. My plan is to never let a good mind go to waste.
Tell us about The Awakening tour. What can fans expect?
Well, it's just me. People are going to get a high energy show. It's going to have very intimate moments, people are going to get to know me a lot more while I'm onstage, the influences, where I'm trying to take music. Most importantly, I want the crowd to leave inspired, to leave motivated, to make them feel good about themselves. That's what it's really about. It's not about me going onstage and feeling like the man. I want them to enjoy themselves and lose their inhibitions.
I see people in crowds and they got their hand folded. I'm like, I know you didn't pay money just to sit there with your arms folded. I want for each and every person to enjoy themselves and get comfortable. I want to bring them into my world, I want not one spirit, not one soul, untouched. You will understand what I stand for as a man and as an artist by the time you leave the show.
-Interview by Raquelle Harris
Kevin Ross' The Awakening album is available everywhere now! He is set to kick off "The Awakening Tour" on May 24 in Chicago.