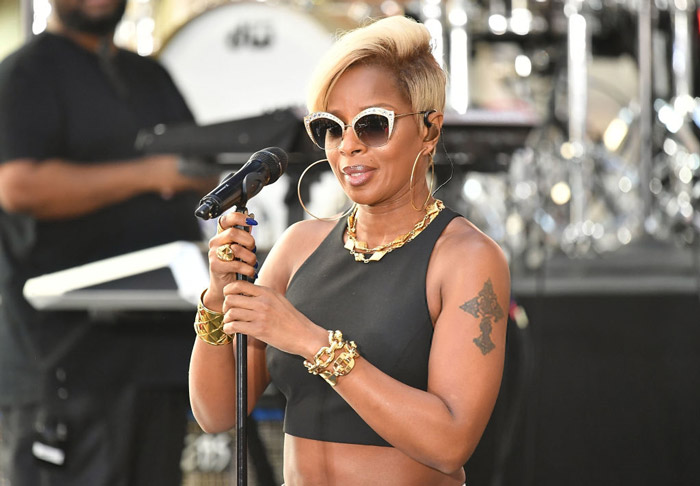 Before heading out on her "Strength of a Woman Live" tour, Mary J. Blige gave fans a dose of what they can expect with a medley on NBC's "Today."
As part of the Citi Concert Series, the Queen of Hip-Hop Soul performed two new tracks from her recently-released 13th studio album Strength of a Woman, "Thick of It" and "U + Me (Love Lesson)."
"It's a special emotion when my fans hear the new songs and they can relate and they understand," said Blige. "That means we can relate to each other so the energy that's given back and forth is just amazing. You can't even understand what it feels like to have people relate to you."
Specifically, these songs deal with the ongoing legal woes surrounding her divorce from Martin "Kendu" Isaacs. Addressing this, Mary said it's always important to use music as a release.
"It's a blessing that I can take all my trials and tribulations," she said. "Everybody knows what's going on. It's awful. It's a bad thing. I don't want to keep talking so much but it is what it is. I wouldn't be Mary J. Blige if I couldn't use my own music as therapy to get me through these things. Right now, I'm healing as well."
But Mary didn't only perform her new songs. She also broke fans off with "Family Affair," starting a dancery in the middle of Rockefeller Plaza. The song's upbeat tempo is indicative of what fans can expect from her upcoming tour, which kicks off July 1 at the Essence Festival in New Orleans.
"Expect [us] to do what we do," she said. "We celebrate life because we come through so many trials, and life is hard as it is, but life is good and we are coming to celebrate the good of life. We're gonna have a good time."