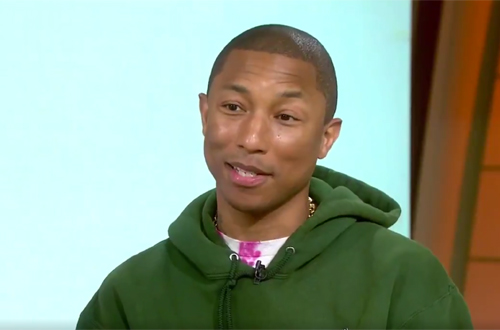 Pharrell fans have just received new music from the platinum hitmaker with the soundtrack to Despicable Me 3. However, for those who are excited to hear stuff that isn't movie related or intended for children, the producer has revealed and confirmed some exciting news!
During an interview on the TODAY show this week, Skateboard P explained that he has no plans to return to NBC's The Voice right now because he has "so much work to do." The exciting part came next when he confirmed that he is in fact working on "amazing" new albums for Ariana Grande, Justin Timberlake and a mystery project which may or may not be a N.E.R.D. album.
"Honestly, I've got to work. I got so much work to do," he said. "I have work to do. Music to make. And so many records…Ariana Grande's album is amazing. The Justin Timberlake album is amazing. There's another album I can't talk about but my fans know about it."

Pharrell has a solid working relationship with both artists. He teamed up with Grande on the Calvin Harris track "Heatstroke" and his chemistry with JT was honed way back in 2002 when The Neptunes produced more than half his debut solo album, Justified.
Pharrell wouldn't give up details on his mystery project, insisting: "I've gotta be a good boy. But it's coming." One release that has been "coming" for two years is the latest record from N.E.R.D., his band alongside Chad Hugo and Shae Haley. Pharrell announced the news back in September 2015 during an iHeartRadio Twitter Q&A. When a participant asked "Are you going to make another N.E.R.D album?," his response was "Of course!". N.E.R.D. released its last album Nothing in 2010.
Watch the interview below.
WATCH: Will @Pharrell return to #TheVoice? pic.twitter.com/sz61lKW7H7

— TODAY (@TODAYshow) June 27, 2017
via Billboard