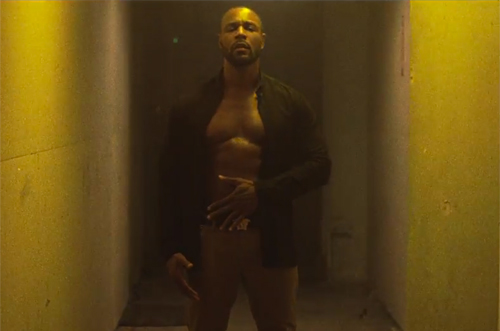 Are you down for some kinky sex? If so, the visuals for Tank's "When We" will get you nice and ready for an erotic session. Even if you prefer vanilla sex, this sensual groove will intrigue you as your mind is stimulated with images of sexual innuendos.
Sinister synths play as he's lured to what appears to be a warehouse after getting a note on his car that reads, "For a good time meet me here." A sultry vixen greets him with a toss of dust into his eyes. As he wanders from room to room, he sees women in various phases of sexual liberation. This ain't about love, it's about lust.
Tank is in straight up 'savage' mode as he sings, "Stroke is getting deep and faster / Screaming like I'm out of line / Who came to make sweet love? / Not me / Who came to kiss and hug? / Not me / Who came to beat it up? … When we f—."
The Grammy-Award nominated singer keeps the sex, love and pain in rotation with a raunchy twist. "When We" is the first single off his upcoming eighth studio album, Savage, which is set to drop this fall. The 14-city "Savage Tour" begins September 5 in Nashville. Other stops include New York, Boston and Memphis. Helping artists on the come up, he is giving local acts in each location the chance to open his show.
"For R&B there aren't a lot of stages and TV shows and radio bandwidth dedicated to [the genre], so I feel it's my responsibility to create opportunity for new artists," he recently told Vibe. "Every city I go to, every city, there will be a local opening act. I'm going on Instagram, giving them 60 seconds at #OpenForTankSavageTour and I'm looking. I'm picking them myself, I'm watching all these videos of men, women, groups, dogs, I don't care who it is. If you barking R&B and I like you, you gonna get on that stage."
Known for his bold lyrics and undeniable sex appeal, Tank stays relevant on purpose.
"I wanted to be aggressive. Unapologetically aggressive too," he says about Savage. "I just feel like for R&B music, especially my type of R&B, there needs to be some type of statement made. We can't continue to speak softly in the hallways."
Indeed, no soft speaking, we prefer screams of ecstasy. Peep the seductive "When We" video below.
-Words by Raquelle Harris