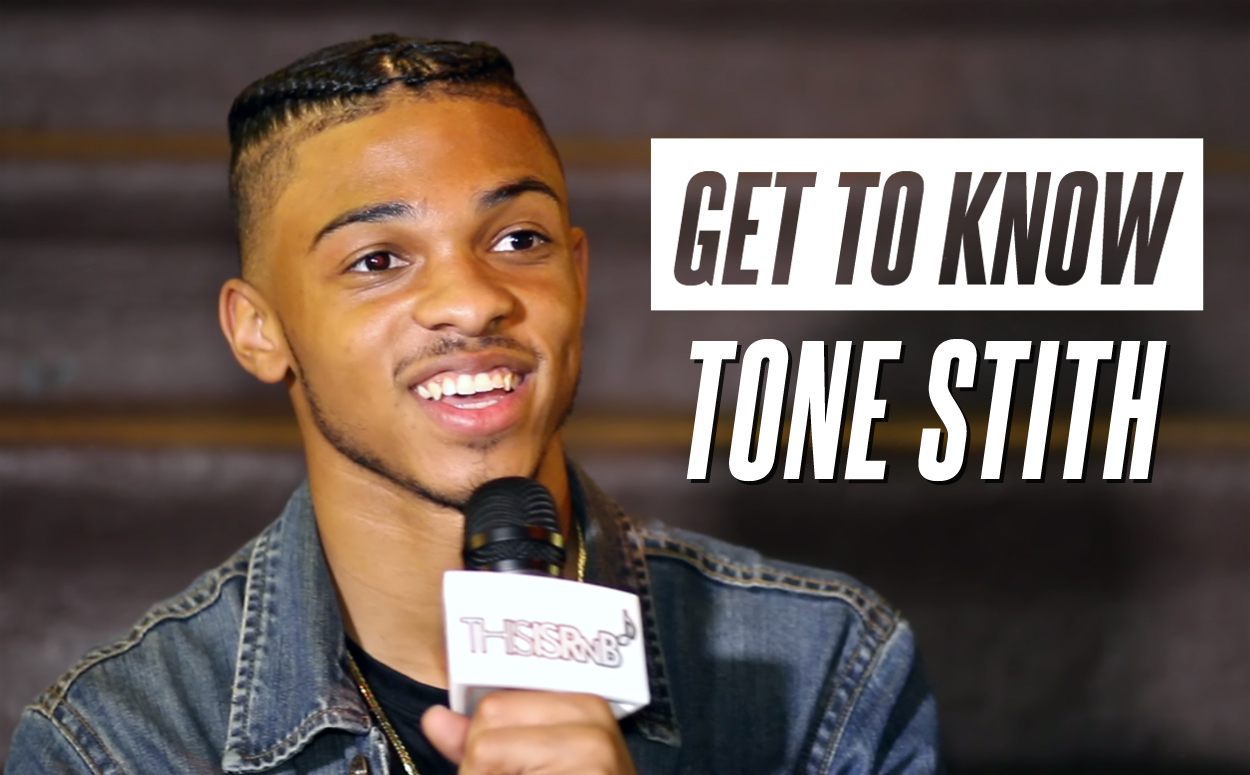 Today's music industry has little time for developing artists. Our fast paced, globally connected world is overrun with a daily overdose of disposable entertainment. The access and abilities constant advancements in technology bring forth progressively will adjust taste and interest. But, what about when gifted talent needs nurturing and dedicated development?
The outcome is rare for all the star-making factors to align, but our magnifying glasses are always focused on locating those needle in a haystack artists.
So, pardon our excitement if you are already familiar, but if you're not, it's time you 'Get To Know' TONE STITH.
A top favorite on our list of exciting rising artists, Antonio "Tone" Stith found music like many greats before him, in the church. Raised in a musical and religious family in New Jersey, Tone's parents embraced and encouraged him to pursue his musical gifts, which started with playing drums at age 3. His mother, who once sang background vocals for the iconic Patti LaBelle, heard his vocal abilities at 7 years old, and by 11, Stith was already learning the popular production software FruityLoops.

After forming a R&B trio named SJ3 with his childhood friends, the group began posting performance videos to YouTube in 2011, and a following grew organically. Their viral success led to an invitation to work with music manager and heir to Rap-A-Lot Records, Jas Prince — who was coming off of the great success of breaking Drake. The nurturing of his talent that Tone received from his family was the foundation that he continued to advance while working with and being mentored by Prince and his team in Los Angeles. Over a two year span, Tone worked on his writing and production, which led to some big placements with Chris Brown, on the superstar's last album Royalty ("Make Love" & "Liquor").
At the same time, Stith was developing his artistry as a solo act and crafting the records that would lead to his debut project, Can We Talk.  Tone released the 11-track project independently in July to the pleasure of his growing fanbase worldwide.  Not only a gifted singer, songwriter and producer, Tone is a fully formed performer as well, who has been dancing since childhood. Last year, he began honing his skills on major stages while touring with Bryson Tiller, and most recently as a supporting act on August Alsina's "Don't Matter Tour," which just wrapped last week.
During their New York City tour stop, we caught up with Tone Stith for a candid interview after his performance at Irving Plaza. The 22-year-old R&B star-in-the-making talked to us about his musical journey so far, sharing his humble and passionate personality.  Tone has much more on the way for his fans, and as he says in the interview, "I want to touch people and inspire people through music," he's doing it.
Get To Know Tone Stith with the exclusive interview below!
-Interview and words by Jamie Wexler