Over the recent years, the release of R&B music has steered away from only being released on certain days of the week. Since there's always something new coming out or some breaking news that hits the web, we know it can be difficult at times to stay updated all things R&B — even on your days off over the weekend.
Although we're always here to give you day-by-day updates, we figured giving you a recap of some of the best R&B tracks and moments from weekend's past (and sometimes a little before) at the top of each week is a great way for you to hear all the good stuff in one place.
So while October may have brought in a bit of a chill, it's time to make yourself cozy and catch up on what you may have missed.
Guordan Banks dropped a brand new album and it's definitely #PressPlay worthy. 
Earlier this year, R&B crooner Guordan Banks released his single "Can't Keep Runnin'" — which sampled The Gap Band's '80s hit "Yearning For Your Love" — and if you weren't a fan from that single alone, you might become one after you hear the new album. Featuring 11 tracks, the project — titled Blood On The Vinyl — gives R&B fans a chance to hear just what he has to offer.
Roc Nation songstress Nicole Bus dropped her visual for "Mr. Big Shot."
We're a little late on the release to this visual, so we figured some of you might be, too. Mid-month, Nicole Bus gave fans the highly anticipated visual to her latest single "Mr. Big Shot" and it's right on time. Interjecting her artistic nature, the visual showcased Black beauty throughout its entire three minutes. The song is lifted from her debut album KAIROS, which was also released earlier this month.
H.E.R. stepped into the world of fashion and we're excited to see what this will produce.
H.E.R. has done it again! Although we're still anticipating the release of her upcoming album, the Grammy winning songstress has found a way to keep fans at bay. Following the likes of other talents, the "Could've Been" singer has now stepped into the fashion world by partnering with H&M and Giambattista Valli for a new line. Taking to Instagram to release the official ad fans and fashion lovers alike are anxiously awaiting the November 7 launch of the collection. All we can say is, we're here for all of what H.E.R. has to offer.
Ella Mai nabs multiple AMA nominations.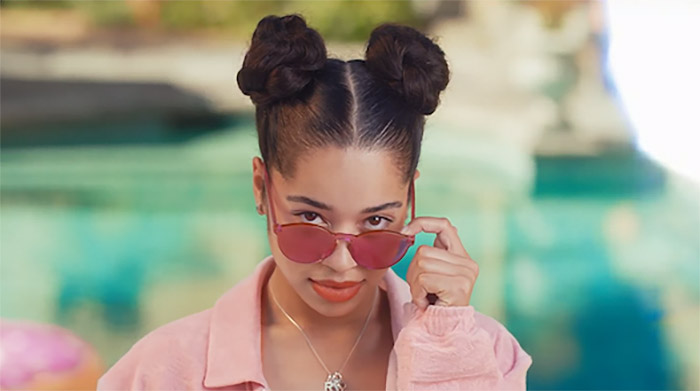 Ella Mai has had an incredible year to say the least and it doesn't seem as if it'll be slowing down anytime soon for the young starlet. Keeping the good times rolling, Ella has just scored four American Music Award nominations for New Artist of The Year, Favorite Female Artist Soul/R&B, Favorite Song Soul/R&B, and Favorite Album Soul/R&B. Not too bad for an album that just turned one on October 12. 
The show will air on November 24 and other nominees include Drake, Ariana Grande, Khalid, Lizzo, Chris Brown and Beyoncé. 
Luke James teamed up with Ro James and BJ The Chicago Kid to deliver the collaboration we've been waiting for.
It's been some time since we've gotten a new track from Luke James, but fans can rest easy knowing that it's finally here. And what's even better is who he called on to collaborate with for this one. Titled "Go Girl," the new release features Ro James and BJ The Chicago Kid and is a clear banger upon first listen. The lyrics, which will have you reminiscing on the best of the '90s, mesh perfectly with the beat and will have you hitting repeat before you even get to the final verse. If this is what we have to look forward to from Luke's upcoming album (one that we're still waiting to hear more details on), we're absolutely ready for it.
Need a way to keep up with all of the great releases that you could have missed? Follow our "What You May Have Missed: Hitlist" playlist exclusively — updated every Monday — over at Spotify.