Over recent years, R&B artists have steered away from only releasing music on certain days of the week. Since there's always something new coming out, we know it's sometimes difficult to stay updated all things R&B — even on your days off over the weekend.
Although we're always here to give you day-by-day updates, we figured giving you a recap of some of the best R&B tracks and moments from weekend's past (and sometimes a little before) at the top of each week is a great way for you to hear all the good stuff in one place. And with some of the top R&B artists releasing new songs, announcing plans for upcoming albums and tours, 2020 is really off to an amazing start for our beloved genre. Likewise, Sunday night's airing of the 62nd Annual Grammy Awards made for a memorable night and celebration of music.
So, if you happened to miss out on what's been going down on the R&B front, here's a short list of what you may have missed.
Tragedy led to an emotional 2020 Grammy Awards.
Music's Biggest Night celebrates artists from across all genres for their amazing work over the past year. But the 2020 Grammys were met with a somber tone after basketball legend Kobe Bryant, his daughter Gianna Bryant, and seven others died in a helicopter crash hours before the awards ceremony. Bryant spent many of his NBA years playing at the Staples Center, where the this year's awards show was held. R&B starlet, Alicia Keys, hosted the ceremony once again this year, and led the night with a message about the tragedy as well as sang a tribute alongside Boyz II Men.
The night was still packed with beautiful performances, and the crowning of several R&B artists for their incredible work. Taking home the award for best R&B Song was PJ Morton for "Say So," a beautiful collaboration featuring JoJo. For Best R&B Album, California's Anderson.Paak won the title with Ventura. Lizzo also gave a powerful speech after winning Best Pop Solo Performance. You can find a list of the remainder of this year's winners here.
Alicia Keys announces new album and world tour.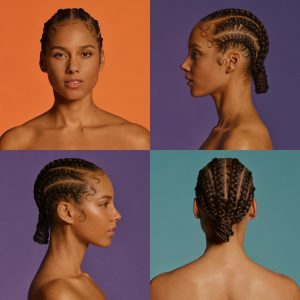 Speaking of Alicia Keys, the accomplished songstress had a few other exciting moments in January on top of hosting the Grammy Awards. She recently celebrated her birthday, and announced to fans she's hitting the road for her long-awaited ALICIA – THE WORLD TOUR. The tour announcement follows the news about plans to release her seventh studio album, ALICIA, on March 20. The project will include already released single "Show Me Love," which reached number one on the Billboard Adult R&B chart.
The Weeknd rips it up in new video release "Blinding Lights"
If you enjoyed The Weeknd's visual for his new song "Heartless," then get ready for an even wilder ride. The crooner has returned with a sequel to the hit song, this time ripping up the streets of downtown L.A. in "Blinding Lights." Sounding like it could be an '80s hit, the song feels like a release for the artist who has had up and down relationships over the past couple of years. The visual kicks off with him rocking the same outfit from his previous video and a bloody face. He takes over downtown, racing through the streets in a top down Mercedes, dancing aimlessly, and hanging out at a night club of some sort. The creative visual might have you doing a bit of dancing yourself.
Jessie Reyez drops stunning visual for "Love In The Dark."
Talented Grammy-nominated songstress Jessie Reyez is back with new music, releasing a video for her latest song "Love In The Dark." The beautiful  visual shows her along a mountainous countryside lake, where she wades through the water as the stars illuminate the night sky. She sings, "I'm nothing without you, and I can't leave you alone." The song will be featured on her debut album, Before Love Came To Kill Us, set to be released March 27, via FMLY/Island Records. Reyez attended the 62nd Annual Grammys as a first time nominee under the category Best Urban Contemporary Album.