If 2020 hasn't throw enough curve balls at you already, R&B songstress Mya is a married woman. It's no surprise she keeps her love life private, but she shockingly tied the knot last year in an unannounced ceremony abroad.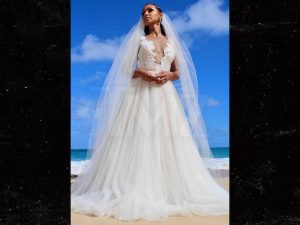 According to a TMZ report, the "It's All About Me" singer got hitched in December off the East African coast on the island nation of Seychelles. The news outlet published stunning photos of Mya along the beach in her pristine wedding dress. And at this point, there's no mention of who her mystery man might be as she hasn't publicly dated in years. Her photos on the gram confirm she was in Africa in December performing and living her best life.
Mya took the R&B world — and music in general — by storm more than 20 years ago. She blew up on the scene with her self-titled debut album having gone platinum in 1998. Most recently, she dropped her eight studio album, TKO (The Knockout), in 2018. So along with staying active in music, it seems like she's been busy capturing love.
Sending a major congratulations to Mya, and her new spouse.