Looking for some new music while you quarantine and chill? Rotimi aka "Sexy Nigerian Buttaschotch" has got you covered. The multi-hyphenate star has taken this time in isolation to drop a 6-track EP titled Unplugged Sessions. He took to the studio in his new Atlanta home to create three new tracks, while also recording acoustic versions of three previously released fan favorites ("In My Bed," "Legend," and "Love Riddim)."
The project kicks off with one of his new songs "100," a guitar-laced sweet serenade. Also new is "ASAP" and "No," which wraps up the EP. Music is one thing that can bind us all together, and Rotimi felt compelled to spread positivity during this difficult time. With most people in America on lock down following the COVID-19 pandemic, the singer-songwriter wanted to share his gift and hopefully make a difference with the EP.
In addition, he teamed up with liquor brand Jack Daniels for its Sweet Relief Musicians COVID-19 Fund, where he performed songs from Unplugged Sessions for the first time. More than $10,000 were raised and you can watch the performance here.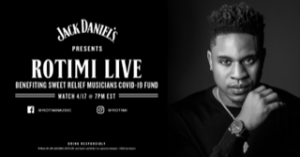 Listen to Rotimi's new EP below: