He undoubtedly touched many lives through his work in music, making a major and lasting impact on the culture. Andre Harrell, the founder of Uptown Records, and person credited for discovering Sean "P. Diddy" Combs, died Thursday night, according to The New York Times.
Harrell's imprint on RnB & hip hop music will last forever as he went from artist to music executive helping sign and mold so many beloved musicians, including Mary J. Blige.
Harrell lived in West Hollywood, Ca. and died Thursday night from heart failure at the age of 59, according to ex-wife Wendy Credle. She said he had lingering heart issues for some time.
Born in the Bronx, Andre O'Neal Harrell attended Charles Evans Hughes High School. He was only 16 when he kicked off his own career as an artist, serving as one half of the rapping duo Dr. Jeckyll & Mr. Hyde with a high school friend. They reached some notoriety with singles "Genius Rap," and "Genius of Love."
His work as an executive came years later, getting his start with another big name, Russell Simmons. He departed Def Jam in 1986 to launch his own label, Uptown Records. Harrell then became an important bridge between the worlds of RnB and hip hop. He put an important finesse on the two opening up the world for memorable collaborations. The label was a success as it built the careers of iconic artists Jodeci, Al B. Sure!, Heavy D & the Boyz, Guy (featuring the multi-talented Teddy Riley), Father MC, and a teenage Mary J. Blige. In the mid-90s, he left Uptown to briefly take the helm of the iconic Motown Records in Detroit as President/CEO.
Beyond the artists at Uptown, he notably helped jump start the career of Sean Combs, who came on as an A&R for the label. Harrell served as mentor to the eventual icon. He fired him in 1993, but we know Combs ended up doing pretty good for himself. The two maintained a relationship down the line, and Harrell served as vice chairman of P Diddy's music cable network Revolt TV.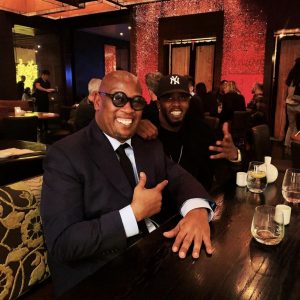 Harrell also made an impact in the world of television and film in the 90s. He executive-produced the popular police drama New York Undercover, and worked on the comedy film Strictly Business.
Most recently, he was collaborating with BET to develop and executive produce a miniseries about Uptown Records, titled Uptown. It was expected to air in 2020, and hopefully, the plans for the series will continue.
Music's elite have been posting heartfelt condolences on social media about his passing:
I just woke up to the awful news that my friend Andre Harrell has passed away.. Andre actually was the person the got me on New York Undercover which started my relationship with Dick Wolf.. My sincere condolences to his family. RIP my friend. Smh 🙏 pic.twitter.com/CJTymfAylg

— ICE T (@FINALLEVEL) May 9, 2020
RIP Andre Harrell. Whether we knew it or not, he had such a huge influence on the R&B/hip-hop my generation grew up loving. He signed and mentored so many great artists, made so much great music happen, helped shape the culture

— John Legend (@johnlegend) May 9, 2020
RIP to my little bro, Andre Harrell…Gone way too soon, but a life lived well & a lasting imprint on our business that can't be argued. pic.twitter.com/xTitn1z3Ap

— Quincy Jones (@QuincyDJones) May 9, 2020
Rest in peace Andre Harrell, your work and impact will never be forgotten.