Lifetime's original film Kirk Franklin'sThe Night Before Christmas starring Naturi Naughton and Luke James. 
The film is set to premiere this Saturday, December 10th on Lifetime. 16x GRAMMY Winner Kirk Franklin executive produces and stars in the film as well.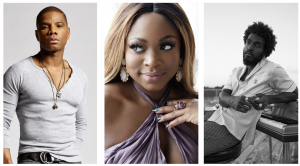 GMA Dove Awards, Stellar Awards, BET Awards, and fellow Soul Train Award Winner, producer, and mogul, Kirk Franklin stopped by  ThisIsRnB to chat about his latest project, "Kirk Franklin's The Night Before Christmas." Additionally, Franklin explains why it was important to have actual singers for the film, how talented actors like Naturi Naughton and Luke James were cast and so much more.
Aside from producing, composing, and arranging the soundtrack for the movie, Franklin has captured the spirit of the season through his songs.
It is Naughton, James', and Turner's performances that make the story come alive, and the chemistry between them as well as the other cast members is outstanding. The movie is filled with meaningful real-life messages. This feel-good, so-relatable Christmas film with its soul-inspiring soundtrack is the perfect spirit lifter, no matter how you're feeling this holiday season!
During our game segment of the interview, Franklin participated in playing ThisIsRnB's original "adlib" game, which was hilariously entertaining.  It's a guaranteed belly-laughing good time.
Kirk Franklin's "The Night Before Christmas" is a wonderfully charming and heartwarming Christmas film, with a soul-stirring soundtrack,  that you are sure to cherish with years of enjoyment.  Replay, enjoy, and repeat over and over again!
Be sure to check out Kirk Franklin's "The Night Before Christmas" movie airing December 10th at 8p/7c on Lifetime.
Watch our Exclusive interview with Kirk Franklin here and be sure to check out the official movie trailer below.
KIRK FRANKLIN'S THE NIGHT BEFORE CHRISTMAS:
While driving on Christmas Eve, estranged mother and daughter, Journee (Naturi Naughton) and Nia (Lorea Turner) are caught in a snowstorm that forces them to take refuge inside a church where parishioners are reeling from the cancellation of their annual holiday concert. The spirit of the season takes hold as Journee and Nia weather the wintry storm together with the other churchgoers, including Adam (Luke James) a handsome youth pastor and a heavenly music teacher (Kirk Franklin), who motivates the mother and daughter to reconcile their differences through music, faith, and love. With the help of this unlikely yet spirited group of strangers, Journee and Nia then band together in the hope of helping the church salvage not only their holiday traditions but also their show-stopping Christmas day performance despite the raging storm outside. Kirk Franklin's The Night Before Christmas is produced by Swirl Films and Big Dreams Entertainment.  Kirk Franklin, Tracy "Twinkie" Byrd, Eric Tomosunas, Angela Plasschaert, Leslie Greif, and Alex Kerr serve as executive producers.  Tailiah Breon directs from a script by Tara Knight.