"They don't make people in this industry that often that have that kind of integrity, human integrity, that kind of warmth and kindness" -Gordon Chambers
For Grammy Week 2023, The Whitney E. Houston Estate Hosted a 4-Day Event at the W hotel in Hollywood California. For 4 Days, the event featured The Whitney Houston Retail Shop, the Whitney Houston Photo and memorabilia exhibit, and the Official Unveiling of The Whitney Houston Hotel. With the opening of the Sony 360 Audio Listening Lounge, music lovers came from near and far to experience the wonder of an Icon. 
The artist showcase included Whitney Tribute songs where some of the industry's new and rising talents stood in the spotlight honoring the late legend with her biggest hits. With each song, it was clear that she was indeed that superstar amongst the stars – past, present, and future. 
Houston's sister-in-law and business manager Pat Houston, Gary Houston, Rickey Minor, and Narada Michael Walden, Gordon Chambers would take the stage – this time as panelists for a powerful discussion of Whitney Houston, her music, and her life. Sharing untold stories and recalling cherished memories with Houston, Entertainment Tonight's Kevin Frazier opening up the conversation by sharing "There is no mistaking that voice, that beautiful voice that changed the world and changed music. There's noise out there, you hear the noise but the voice always cuts through and that is something we always have loved about Houston."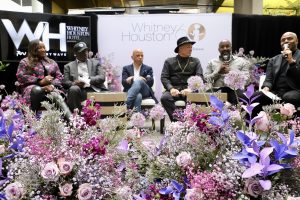 Pat Houston, who Frazier called "The Voice Behind the Voice and The Keeper of the Flame," shared her sentiments about Houston's vocal abilities. "It's just extremely angelic, you only want to hear that voice. And I feel so badly sometimes because when I hear other performers and I'm listening they sound so good but when you have Whitney's voice in your head, you're like there's no other. And there's so many special entertainers out there but none not quite like Whitney's, so angelic and angelic is beautiful." 
Houston's brother Gary Houston recalled what it was like watching the Icon develop and spoke about the moments growing up as Whitney grew into who she was. "There were so many magic moments, one moment in time situations where she was growing up as a 3-year-old. She was in the basement singing – my mother's wig on, with a broom & gown, and high heels. I was watching, she thought no one was looking, mimicking my mother and Aretha, so I had some kind of idea that she was going to be a prodigy but not like it became," he said. 
Houston's former Music Director Rickey Minor shared with the crowd, "I think that it happens very rare that a special spirit comes down and it happened to be her voice in this case. She could have done anything and I think that she had the ability to be right in the center of where she is. And when it came to work, she could really do it. And what's so crazy about it is she didn't have to work for it, it was already there. It's nothing that she had to learn how to do it was already inside of you and that doesn't always happen. This gift here and then a path to let the world hear it. With that comes a lot of responsibility and a lot of weight. I think it's important for me to let everyone know where her heart was. She was silly and it came easy so she didn't have to work hard." 
Minor who met Whitney when she was 18 and he was 22, spoke about his experience working with Whitney in her early days when she first signed with Clive Davis. "Clive had just signed her and he wanted to do a showcase here in LA and he wanted all of the producers out to hear her sing she was so fired up, she did 3 songs. I just remember Clive saying "Mark my word, you're looking at the next superstar, Dillard recalls. 
Narada Michael Walden, who was there at the beginning of Whitney's career, told the crowd that it was Houston's rendition of "How Will I Know" that caught his attention after initially passing on working with her. "They did "How will I know?" and it blew me away, recalls Walden. I've never seen a singer with so much power and so much confidence and would look at you like Mohammed Ali. Like "Did you hear that sound?" And the sound was awesome. In the room with her – I never saw anyone look at me like "Are you hearing that sound?" he said. 
For panelist Gordon Chambers, who worked with Houston and produced songs on her "Just Whitney" and her Christmas albums in the early 2000s, it was the human side of Houston that he loved the most. "When I think about Whitney Houston I don't think about just the voice, I think about the human being. I loved her, to know her was to love her and she was the most loving, kind, warm, sincere, generous, and supportive spirit. They don't make people in this industry that often that have that kind of integrity, human integrity, that kind of warmth and kindness, he said. 
Chambers, who wrote "I apologize" for Anita Baker said that it was Bobby Brown who insisted on him meeting Houston after learning that he wrote many of the songs Houston liked. "He rushed me over to the table and she started singing my songs for me in my ear. When we finally got to the studio to do the first record, I said to her I said Wow it took me years of submitting songs to Clive to Arista until I finally got something accepted when L A Reid was the executive at Arista at the time. And the very first time we had the first studio session I said wow, I had waited for this moment for a long time, she said "no baby, I have waited for this moment for a long time. That's the love that I remember and that's what I love to talk about when I talk about her, he recalled. 
The hour-long panel was a time of reflection and remembering not only the music but The Voice. "She was very loving, peaceful. She loved peace regardless of all the noise that was out there, she loved peace. And those moments were moments of sisterhood, she was always there to not look down on a person. When you look down, she's looking down to pick them up and nothing more. So, she was all about helping others help themselves and I loved that about her," Pat Houston recalled. 
The Whitney Houston Brunch at the Whitney Houston Hotel was a magical afternoon honoring one of the best-selling artists of all-time – Whitney Houston. As Pat & Gary Houston, Rickey Minor, Narada Michael Walden, and Gordon Chambers ended the discussion, it was apparent that the love for Houston, her music, and her legacy will continue to live on forever. 
The Primary Wave Music Grammy week celebrations continued with artists' showcases that included Amber Riley, Kiana Lede, Michelle Williams, Sevyn Streeter, Tone Stith, red carpet events, and a rooftop party attended by celebs like Eric Benet, Cypress Hill's B-Real, and Sen Dog, Skylar Stecker, Baby Tate, 8AE, Absolutely, and Mamii to name few as this rounded out the week's festivities.
HOLLYWOOD, CALIFORNIA – FEBRUARY 2023 Primary Wave Music And The Estate Of  Whitney E. Houston Kick-off 60th Birthday Celebration Of Icon at W Hollywood  Hollywood, California. (Photos by Gonzalo Marroquin/Getty Images for Primary Wave Music and the Estate of Whitney E. Houston)