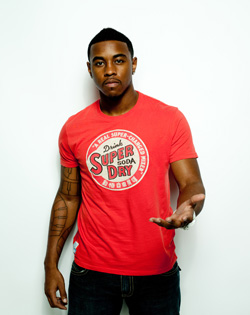 Let it not be said that DJBooth.net doesn't jump on new talent early, nor that our readers don't know a hit when they hear one; though it wasn't till the single's official release this past March that "Birthday Sex" catapulted Jeremih to national fame, the record's massive potential was clear to the DJBooth community since it hit our front page back in December. With his breakout smash in the midst of a legendary, ten-week-and-counting stay at the top of our own Top Picks chart (and currently sitting at #6 on the Billboard Hot 100), the rising star is preparing for the release of a debut LP that will showcase the true breadth of his musical talent and lay the groundwork for a long and illustrious career as a pop hitmaker.
Featuring the singer's now-iconic debut single as well as equally reader-acclaimed follow-up "Imma Star (Everywhere We Are)," and street record "Raindrops," Jeremih's forthcoming, self-titled debut album comes complete with the DJBooth.net stamp of approval. When June 30th rolls around, be sure to "ri-i-ide out" and pick up two copies—one for yourself, the other to give your guy or gal on their special day.
In an exclusive interview with our own DJ "Z," Jeremih steps into the Booth to discuss his seemingly-overnight rise to pop stardom, everything you ever wanted to know about "Birthday Sex," and why he considers Auto-Tune a complement to his distinctive vocal style, not a crutch.
LISTEN TO THE INTERVIEW,
Shout to Z at DJBooth