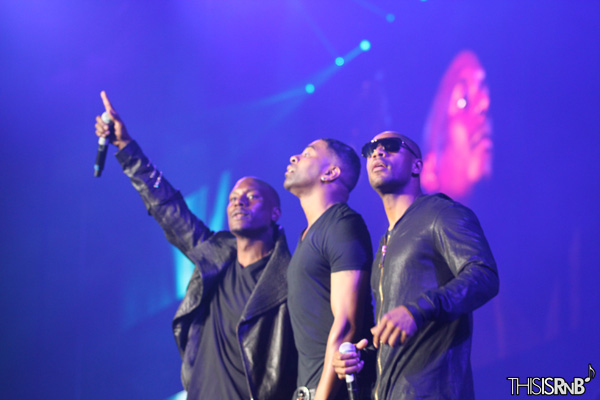 It has been 6 years since Tyrese, Ginuwine and Tank dreamt up the idea of coming together to form the R&B supergroup TGT.  With their dream coming to fruition this year, and the album ('3 Kings') scheduled to hit stores on August 20, the veteran singers have taken their act on the road.  As a part of their current "3 Kings Tour" the fellas were the first mainstage act on Sunday night at the ESSENCE Music Festival.
Before coming together to show how they perform as a unit, each artist treated fans at the Mercedez-Benz Superdome to a selection of their individual hit songs and classics. Tank was first up as he hit the stage to a roaring applause from the female fans, quickly stripped down to a tight white tee, he even handed out money to some lucky ladies, to pay for their manicures. Following the R&B general, Mr. Pony himself, Ginuwine sprinted to the middle of the stage and got everyone to their feet. However, the energy truly felt on 100 when he dropped the first beat of his massive classic "Pony," and jumped off stage and into the crowd to sing and touch the fans. After G, had everyone amped up, Tyrese made his entrance and kept the R&B lovers on their feet with his '98 classic "Sweet Lady," and modern day R&B anthem "Stay."
Once the fellas had their personal moments, it was time to unite as TGT, switching from white leather to black, they stormed the stage performing R&B classics like "Poison" and of course their debut single "Sex Never Felt Better."  If anyone was wondering how this collaboration would pan out, the trio showed and proved TGT is a light in the tunnel of real R&B's comeback.
Check out our photos below: