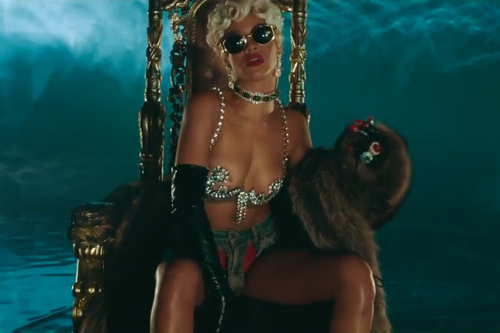 Throw it up, throw it up, watch it all fall out! Rihanna finally serves the long-awaited music video for her strip club anthem "Pour It Up" off her album Unapologetic.
In the raunchy visual, which she co-directed, the pop siren sexes up the screen in a diamond-encrusted bra and blonde wig while twerking on a throne and in a pool of water. She swings from a pole, smokes, and stuffs money down her underwear.
If that wasn't enough, she enlists exotic dancers including Nicole "The Pole" Williams, Candace Cane, and Secret Moneii, who perform acrobatics on the pole.
"I bet you never seen bitches twerk on water," said RiRi.
Peep Rihanna's most scandalous video yet before it gets banned.