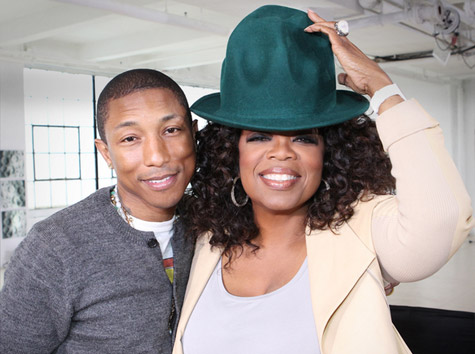 Pharrell Williams is bigger than ever, thanks to some of the biggest records of his career which have ruled the charts for over a year now. It was only right that he would be up next to speak with Oprah for one of her iconic interviews.
Starting out talking about all the amazing success he's had in the past year, they go back to his youth talking about his upbringing and early career when he was the guy behind the guy.  Going back to his massive No. 1 single "Happy," the hit-maker gets very emotional and sheds some tears while maybe for the first time being able to reflect on the journey and what he accomplished with the song. Moving on they talk about him finding his way as an artist himself, and not copying the lifestyle of Diddy or Jay Z.
In addition to the music they talk about his passion for women's rights, his marriage to Helen, raising their son Rocket and more.
If you missed it live, catch the full interview below!