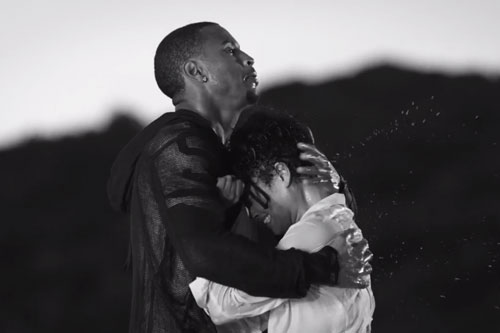 Trey Songz has given fans the chance to break into his phone with a slick marketing app, that can be viewed on mobile devices here. Launching the mobile site as a way to release the music video for his latest single "SmartPhones," the R&B heartthrob has now officially released the web version of the visual.
The 7-minute video, directed by Gil Green, opens with Trey in some very intimate and provocative scenes with multiple women. From the car to the shower to the bed, Trey is indulging in all that fame has brought him. But, he's not a single man, and without realizing it he pocket dialed his main girl and she heard everything. Knowing that he messed up big time, the singer rushes out of the house to drive over to his girls and hopefully convince her that nothing happened.
Finding her in the pool as she attempts to commit suicide, Trey pulls her out of the water and tries to console her while she hits and pushes him around until they both collapse in each others arms.
"These phones are so smart in all that they do, that it's like they're an extension of our brain, but what they can't do is always prevent human error and human nature," Trey told Mashable. "The mistakes that we as humans make, the relationships that we make and we break, no amount of technology can save."
Trey Songz sixth studio album, Trigga, is due out July 1. Check out the emotional new video below: