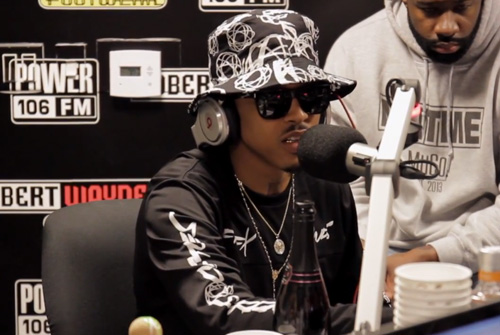 August Alsina stopped by 'The Lift Off' show on Power 106 while in Los Angeles on Friday. The young R&B star spoke with J Cruz and Justin Credible about living the proper L.A. lifestyle and how he is trying to be as smart as he can be, to obtain that lifestyle. He shared a story about when he was hanging out with Chris Brown and Tyga and how they helped him come to this conclusion.
Many in the hip hop world were surprised when XXL Magazine placed August Alsina and Ty Dolla $ign on the cover of this years Freshman issue. The 21-year-old spoke about his place on the cover and his feelings as to why it was completely justified.
"I feel like what we doin [himself and Ty] is opening doors, because I would hope and I would pray that from now on if somebody that is singing is actually making noise for themselves they would be able to get the attention of somebody like a XXL," August said.
Additionally, they had to try and get Aug to play their favorite game of 'Eff, Marry or Kill,' and for August they offered him the choices of Khloe Kardashian, Draya Michelle or Jhene Aiko. Kinda an easy one in our opinion, but who do you think August chose to f*ck, marry or kill?
Check out the interview clips below: