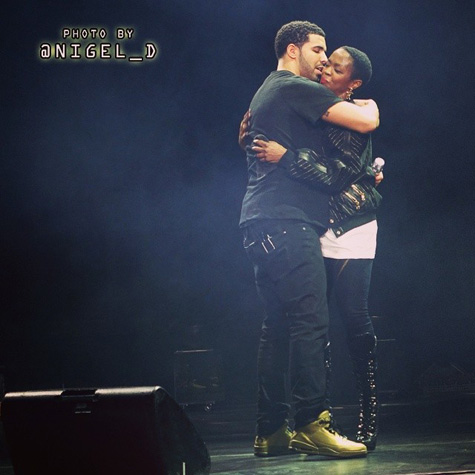 Drake once again put on for his city as he brought the stars out for the 5th Annual OVO Fest. The Canadian superstar shared the stage with Lauryn Hill, Usher, Trey Songz, 50 Cent, J. Cole and more during Monday's three-hour event at Toronto's Molson Canadian Amphitheatre.
Jhené Aiko opened the show, making way for the first big surprise of the evening, Ms. Lauryn Hill. The Fugees frontwoman performed "Killing Me Softly," "Fu-Gee-La," and "Ready or Not" before a bowing Drake showed up to perform a mash-up of "Draft Day" and "Doo Wop (That Thing)."
"I gotta hug my mom before I do this show because it's the fifth year," he said (according to Billboard) before his mother Sandi Graham took the stage in a wheelchair.
"If you've been a fan of music or a fan of Drake, I want to take you back tonight," he said before taking a trip down memory lane, starting with his 2009 mixtape So Far Gone.
Trey Songz joined him for "Successful" and "Na Na." "I promise you my career as a human being would be nowhere without this guy," Drake said of the R&B crooner.
PARTYNEXTDOOR and DJ Khaled were up next, followed by Tinashe and YG, who performed "Who Do You Love?"
"This is probably gonna be one of the best moments in OVO history, so make some mothafuckin' noise," said Drake as Usher emerged to perform "Climax," "Confessions Pt. II," "Lovers and Friends," "U Don't Have to Call," and "Good Kisser."
Drake also announced that the two have collaborated on Usher's upcoming album, due this fall, and asks his friend to show off his signature slide dance. "From 'My Way' to '8701,' I used to swing a chain around my neck," Drake recalls, "I had the Sean Johns on, I had the roller-skating shoes on. Can we just slide walk for a second, you still got it?"
Check out all the video footage below!
[Rap-Up]