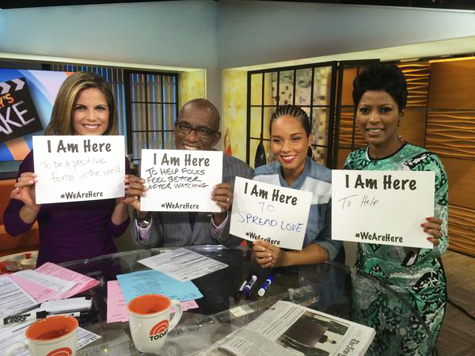 Alicia Keys is kicking off our week on a positive note. Following last week's debut of her new single "We Are Here," the consummate performer brought the uplifting anthem to the "Today" show.
Seated at a piano that read "Love," the pregnant R&B superstar belted out the inspiring song and sat down to discuss her career and motherhood.
"This song gives us the opportunity to have that dialogue and start talking about what are we here to do for each other," said Alicia.
It's been 13 years since the 15-time Grammy winner released her debut Songs In A Minor, but she still has a lot more to do. "It's incredible because every day is a new chance and an opportunity," she said. "I feel like I haven't even really gotten started."
Her second child is due in December, and motherhood has played a pivotal role in her music. "I've always been an empathetic person, I've always related to what we've gone through as a humanity, but when you start seeing your kids in the mix and what they're gonna grow up in and what they're gonna be a part of, or how they can help change it, you get fiercer about it."
Plus, she talked about planning Swizz Beatz' amazing Coming to America-inspired birthday bash.