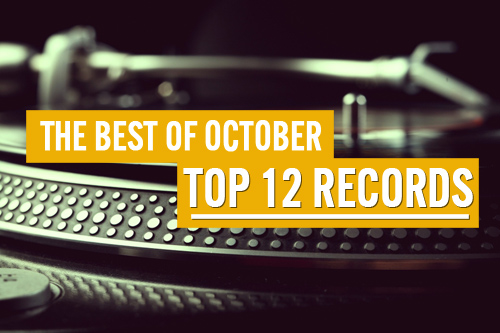 As the year rapidly approaches its closing, we're still in disbelief that 2015 is right around the corner! Although the year is moving fast, the month of October wasn't so lucky when it came to music. However, we're always going to be fans of quality over quantity and that's exactly what we received from our musical pickings this month.
While Tamar Braxton was busy pleading for more love with Future and Teyana Taylor urged us to not come knockin' while the bed was rockin', this month also supplied us with unexpected releases from Adrian Marcel, Brandy, Elijah Blake, and more.
So, before you get ready to celebrate Halloween this weekend, take a moment and check out all the treats this month had to offer with our "Best of October – Top 12 Records" list below!
Tamar Braxton feat. Future – Let Me Know
Tamar might receive a lot of heat for her ability to be overly outspoken, but one thing you can never take away from her is her talent. Debuting the lead single from her upcoming third album, the R&B diva called on Atlanta rapper Future to assist in bringing the newest track to life. Sampling Aaliyah's 1994 hit "At Your Best (You Are Love) – which took from The Isley Brother's 1976 radio smash of the name – "Let Me Know" has already become a favorite amongst many, including us.
Elijah Blake – Strange Fruit
There is a certain place in our hearts for a young artist named Elijah Blake. Dropping both his anticipated EP Drift and the visual to the addicting song "Strange Fruit" right at the end of last month, Elijah knew exactly where to hit fans to make them remember why he is one of the most talented R&B artists coming out right now. Undoubtedly our favorite single off of the project, "Strange Fruit," sees Elijah spit some pretty raunchy lyrics over the eerily seductive production.
Adrian Marcel – Spending The Night Alone
Adrian Marcel has been an artist to watch for us for almost two years now. Releasing one of the hottest mixtapes of the year with his Weak After Next project, there's absolutely no stopping this talented crooner. Without any prior notice Adrian dropped this stellar single "Spending The Night Alone" to follow his summer club hit "2 AM," and it surely fits the mold of typical AM with well arranged vocals over a sultry beat that many adore. Produced by Rico Love and Jim Jonsin, this could be the perfect ballad for the pending cuffin' season.
Tinashe – Little Things
Another list, another Tinashe song. The buzzing young star makes her way onto our monthly list yet again with the previously unreleased song "Little Things." While the single wasn't included on her debut album Aquarius, the song has still managed to find a home in the hearts of fans all over. Set over a fun, bouncy beat, the song follows the flow of her breakout hit "2 On".
See More on Page 2