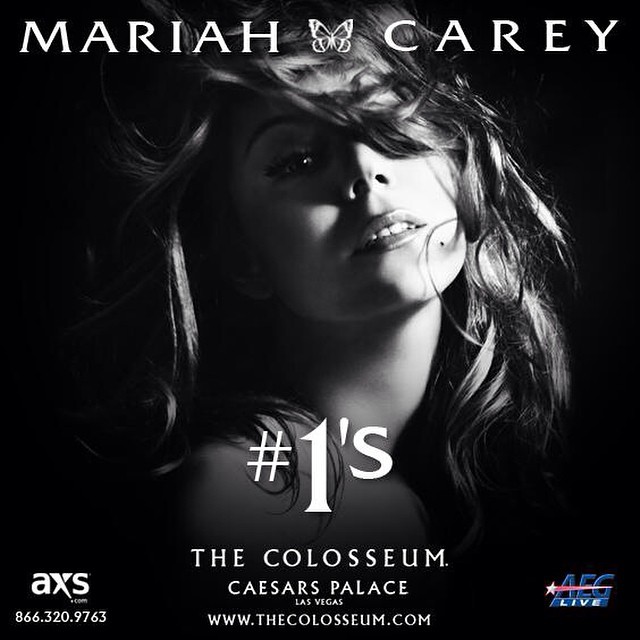 After rumors and speculation, Mariah Carey has announced that she will be setting up shop in Las Vegas for her first ever headlining residency at The Colosseum at Caesars Palace. For the first time ever, she will perform all 18 of her timeless and beloved number one hits together in one concert.
Designed exclusively for The Colosseum, the production will also feature fan-favorite album cuts, never-before-performed selections and many more musical surprises.
Mariah announced the exciting news on The Ellen DeGeneres Show, where she surprised the entire studio audience with tickets to her Las Vegas show and a hotel stay at Caesars Palace.
"I have so many ideas for the show that I'm currently working on and am excited to perform all of my #1 singles together for the first time and others that are very close to my heart," said Mariah. "My songs are the soundtrack of my life and I can't wait to share them with my fans on stage!"
"Vision of Love," "Hero," "Fantasy," "We Belong Together" and "Touch My Body" to name a few, are among Mariah's 18 songs to reach #1 on the Billboard Hot 100, a feat that has not been achieved by any other solo artist in music history.
In celebration of Mariah's groundbreaking record, and in tandem with the concert series, Mariah is working on a new edition of her worldwide best-selling album "#1's." Set to include all 18 of her number one hits, along with newly recorded music, the album will be released later this year.
"Revisiting these songs for the show, working on the updated compilation and creating new music has really let me reconnect with my songs and I hope my fans will enjoy the experience," said Mariah.
Presented jointly by AEG Live and Caesars Palace, the residency will launch Wednesday, May 6, 2015. Tickets to the first 18 performances in 2015 are on-sale now. Tickets may be purchased in person at The Colosseum at Caesars Palace Box Office, or online at thecolosseum.com or axs.com.