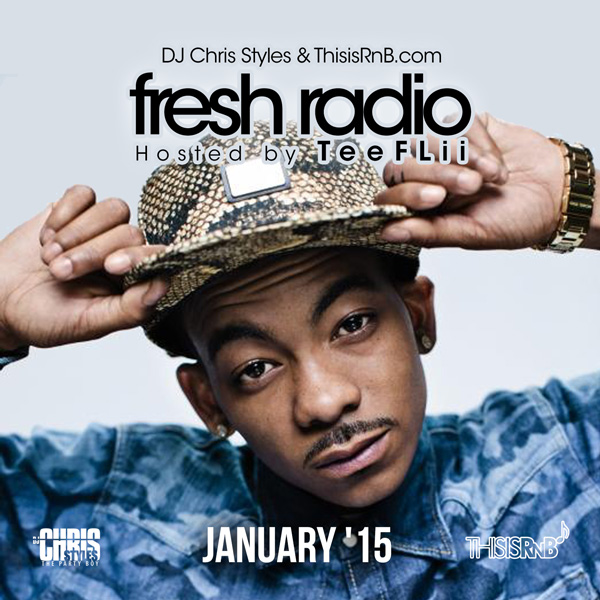 2014 went by super fast but we're ready to kick off 2015 with the first edition of our monthly 'Fresh Radio' mixtape with DJ Chris Styles of Sirius XM's 'The Heat.'  One of last year's breakout R&B artists was L.A.'s own TeeFLii, who had the clubs going up with multiple hits, and he joins us as this month's special guest host!
As always the 60 minute live mix features some of the hottest R&B singles climbing the charts and rockin the clubs right now, including tracks from Chris Brown, Usher, Tinashe, The-Dream and many more. Plus exclusive interlude breaks from TeeFLii, who will release his debut album Starr on February 3 via Epic Records.
Follow the jump to stream and download the new mix now!!
#FreshRadio
Tracklist:
01. TeeFlii Intro
02. TeeFlii – How Do U Want It
03. Chris Brown & Tyga – Ayo
04. Omarion feat. Chris Brown & Jhene Aiko – Post To Be
05. French Montana feat. Jeremih – Bad Bitch
06. Wash feat. French Montana – Can't Trust Thots
07. TeeFlii Break
08. TeeFlii feat. 2 Chainz – 24 Hours
09. DJ Carisma feat. Cadence – Want This
10. Tinashe – F**kin Wit Me
11. The-Dream feat. T.I. & Trev Rich – That's My Sh#t
12. Eric Bellinger feat. 2 Chainz – Focused On You
13. TeeFlii Break
14. Usher – I Don't Mind
15. Natalie La Rose feat. Jeremih – Somebody
16. Prince Royce feat. Snoop – Stuck on a Feeling
17. Trevor Jackson feat. Sage The Gemini – Know Your Name
18. Derek King feat. Sage The Gemini – Teasin
19. TeeFlii Break
20. TeeFlii – This D
21. K. Michelle – Going Under
22. Jordin Sparks feat. 2 Chainz – Double Tap
23. J Rand feat. Tino Cochino – If It's Alright
24. TeeFlii Break
25. Kid Ink feat. Chris Brown – Show Me
26. Miguel feat. Kurupt – NWA
27. Luke Christopher – Ms Holy Water
28. Maejor feat. Jeremih – Get You Alone
29. TeeFlii Break
30. TeeFlii – Change Your World
31. TeeFlii feat. Chris Brown – Blue Lipstick
32. Teairra Mari – Deserve
33. 4EY – Scoot Ova
34. Usher feat. Migos – Still Got It
35. TeeFlii Outro
DL: DJ Chris Styles & ThisisRnB – 'Fresh Radio' (January '15) (Hosted by TeeFLii)