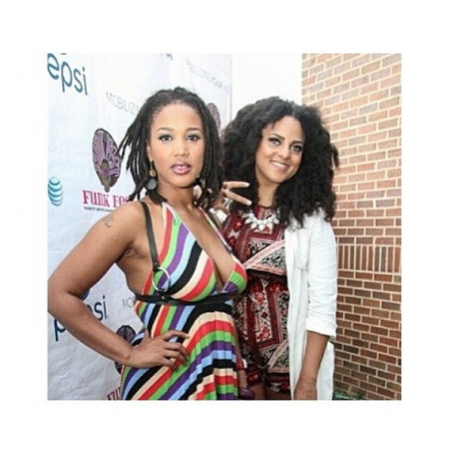 Over the last year, we've gotten taken back to our past many times. From the return of jelly shoes, Jodeci, and thankfully, the beautiful Tamia, we've been able to feel more than just a bit of nostalgia these days.
Included in that swamp of good things was the reunion of British duo, Floetry, last December. Making a few appearances since then, the beautiful ladies have now announced that they will indeed be going through with a summer tour together.
Following their performance at Atlanta's Funk Fest last weekend, Marsha Ambrosius took to her Instagram account to announce she and Natalie "The Floacist" Stewart will kick their tour off on June 17 in Cleveland, Ohio. Hitting St. Louis, Cali, and Texas before making their way to the Essence Festival in July, the talented songbirds are ready to bring that old thang back for fans to enjoy.
Closing out their summer tour on August 8 at the Spirit Festival in Maryland, we're hoping that this tour is just the preparation for the long awaited follow-up album to 2005's Flo'Ology.
Check out the dates of the tour below and purchase tickets here.
Floetry Tour Dates
Cleveland, OH – 6/16
Cleveland, OH – 6/17
Columbus, OH – 6/18
St. Louis, MO – 6/19
Detroit, MI – 6/2
Chicago, IL – 6/21
Denver, CO – 6/23
San Francisco, CA – 6/25
Tacoma, WA – 6/26
Phoenix, AZ – 6/28
San Antonio, TX – 7/1
Essence Festival – New Orleans, LA – 7/5
Birmingham, AL – 7/8
Louisville, KY – 7/9
Charlotte, NC – 7/10
Durham, NC – 7/12
Philadelphia, PA – 7/17
Newark, NJ – 7/18
New York, NY – 7/19
Spirit Festival – Columbia, MD – 8/8