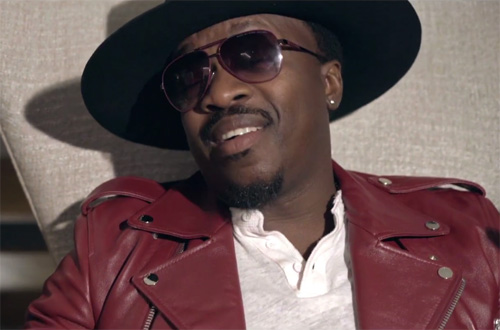 Anthony Hamilton knows a thing or two about the blues.
His What I'm Feelin' album, released earlier this year, is currently making its round on music platforms across the country, and now the soul singer has opted to give the song, "Love is An Angry Thing," a set of visuals to match.
Directors Everyday LaVan and Roman Montgomery keep the music video fairly simple, showing off Hamilton in his token fedora and an array of jackets and sharp outfits. But make no mistake – it's deliberate that Hamilton is all alone in "Love is An Angry Thing's" music video. Whether he's struggling to find the words to write at home on his couch or trapped in a literal prison of the heart, Hamilton has been hurt by love and just needs to vent about it. "You knocked the wind out of me," he croons, "And I was good to you!"
In addition to the new video, Hamilton has announced a four week fall tour to promote his latest album, bringing along Lalah Hathaway and Eric Benet as special guests. The tour will make stops in D.C., Tennessee, Florida, Louisiana, and more throughout the month of October. Tickets will go on sale this Friday, August 19th.
See the "Anthony Hamilton in Concert" tour itinerary, and video for "Love is An Angry Thing" below.
TOUR DATES:
Oct. 6 – Durham, NC – Durham Performing Arts Center
Oct. 7 – Charleston, SC – N. Charleston Performing Arts Center
Oct. 8 – Washington, D.C. – Constitution Hall
Oct. 9 – Baltimore, MD – Modell Performing Arts Center At the Lyric
Oct. 13 – Louisville, KY – Palace Theatre
Oct. 14 – Detroit, MI – Fox Theatre
Oct. 15 – Cincinnati, OH – Aronoff Center for the Arts
Oct. 16 – Augusta, GA – Bell Auditorium
Oct. 20 – Memphis, TN – Orpheum Theatre
Oct. 21 – Nashville, TN – Municipal Auditorium
Oct. 22 – Chattanooga, TN – Soldiers & Sailors Memorial Auditorium
Oct. 23 – New Orleans, LA – Lakefront Arena
Oct. 27 – Ft. Lauderdale, FL – Broward Center For the Performing Arts
Oct. 28 – Jacksonville, FL – Moran Theater
Oct. 29 – Columbia, SC – Township Auditorium
Oct. 30 – Richmond, VA – Altria Theater
–Words by Bradford Howard