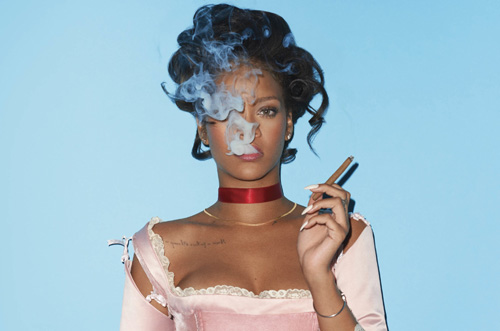 Rihanna has transformed into a modern-day Marie Antoinette in the latest issue of CR Fashion Book.
Fashionista Carine Roitfeld teamed up with famed photographer Terry Richardson for the concept-driven shoot.
"I wanted to show that [Marie Antoinette] is not just a villain to be despised or a muse to be channeled," explained Roitfeld. "She is neither, actually. She is a prototype for contemporary fame, body, beauty, celebrity, and femininity. Everything done by her and to her has influenced society's concept of womanhood, for better or worse."
For the shoot, Rihanna rocks a pink top by Dilara Findikoglu and a basket-like skirt from Le Vestiaire. She also confidently grabs one of her breasts in Dior and Kunza. Finally, she appears holding a baby while rocking a sheer Rosamosario dress and underwear from Fleur of England.
Rihanna was chosen for the shoot because she has a regal aura, according to Roitfeld.
"The magazine is crafted around key elements of her [Marie Antoinette's] life–her exuberant sense of fashion, her elaborate hairdos, her intense sexuality–almost like a modern biography through fashion imagery," she added. "And on the cover is Rihanna, who shares with Marie Antoinette an air of royalty that I, and the world it seems, find intoxicating."