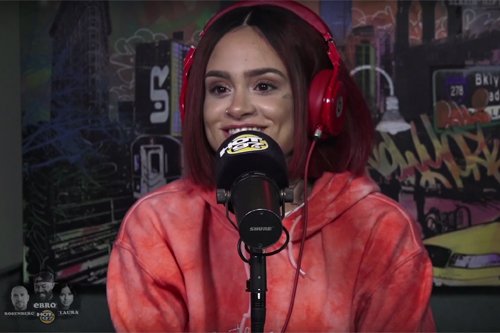 Kehlani is in these streets y'all!
Fresh off the release of her debut album, SweetSexySavage, the 21-year-old singer/songwriter has been traveling across the country for album signings and radio interviews to promote the album and her upcoming tour.  On Baelani's stop in New York, she visited Hot 97 and gave in-depth interviews with both "Ebro In The Morning" and with fellow Bay Area native, Nessa.
In her sit down with Ebro, Lani explained how 90% of SweetSexySavage was written entirely by her and why this project is authentic to who she is as a person now compared to her previous two mixtapes. She said that this album helped her to "re-connect with myself and re-fall in love with it" during the creation and recording process of making new music.  The Morning Show team even briefly touched on the Tsunami Mami's political views ranging from her disappoint in the executive order to re-start construction of the North Dakota Access Pipeline, to how important she thinks it is for artists to use their platforms to speak-up, educate, and keep people informed.
Then, sharing some quality couch time with Nessa, Kehlani talked about what her favorite songs on the album are if she had to choose. Those songs happen to be "Piece of Mind," "Thank You" and "Get Like." She also touched on her return to social media being the result of finally realizing that there are way more people who love her and what she has to say, than those who dislike her. They ended the interview with some much needed girl talk about expectations placed on women and their appearance thanks to a surprise visit from Cardi B.
Check out both interviews below.
–Words by Jamila Wright