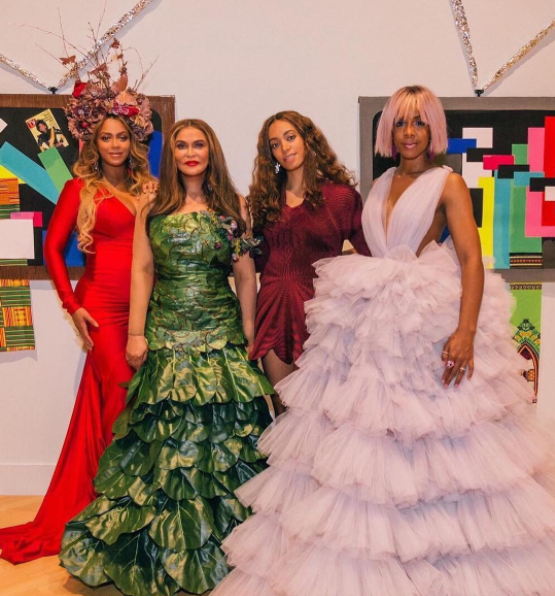 Destiny's Child was back together again on Saturday night (Apr. 29).
Beyoncé, Kelly Rowland, and Michelle Williams all attended Tina Lawson's inaugural Wearable Art Gala at the California African American Museum in Los Angeles. Supporting her mother, Queen Bey and Jay Z showed up in glamorous style to the fundraising affair. Hov rocked a dapper white and black suit with a beaded bear on the back, Beyoncé wore an elaborate floral crown, and stunned in a silky red dress showing off her baby bump.
Bey isn't the type to just attend a fundraiser either. The superstar reportedly donated two Coachella 2018 festival tickets, backstage passes, and her tour mic to be auctioned off at the gala.
Kelly Rowland wore a lavish lavender Monsoori gown with Jon Buscemi sneakers underneath, and brought along her 2-year-old son Titan as her date. Meanwhile, Michelle Williams wore an absolutely beautiful Esé Azénabor hand beaded gown with floral designs. They weren't the only members of DC in attendance either. Letoya Luckett was photographed with Michelle and actress Meagan Good, wearing a colorful piece of wearable art as well and a lace veil over her eyes.
On Sunday (Apr. 30), Beyonce shared a sweet and encouraging message to her mother on Instagram. "I am super proud of my beautiful mother for creating such an awesome event," wrote Bey. "Close to $1 million was raised for The WACO Theater Center to benefit young people through their mentorship programs and the arts. Mom, you inspire us all to be generous, selfless, positive, to have empathy, to love and to praise creativity in the world. It brought tears to my eyes to be a witness to what you and Richard have created together. WACO is a safe place truly Where Art Can Occur. I love you."