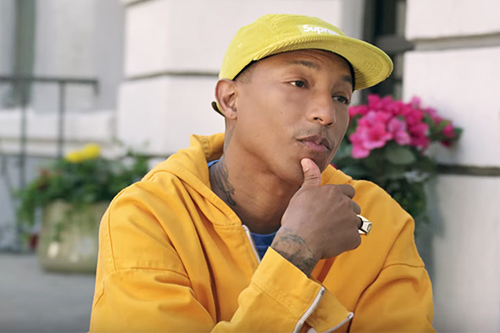 Pharrell to the rescue.
Shortly after releasing "Yellow Light" off the Despicable Me 3 soundtrack, Skateboard P gets animated in the music video for the fun new single.
The clip begins with the superstar and his crew of Minions chillin on a flower covered block. Digitized in 16-bit form, the yellow creatures get distracted by their obsession with bananas and eventually, they get captured by the evil Balthazar Bratt, DM3's super villain, voiced by Trey Parker.
Along the way, Pharrell finds himself falling into the 16-bit dimension, where Bratt challenges him to a dance battle. With the running man and a yellow light beam, Skateboard P comes out victorious and is able to free the Minions.
Following his work on Despicable Me 2, which launched the massive success of "Happy," Pharrell returned to score DM3 and handle the soundtrack. The set will feature five new original songs from the N.E.R.D. star, including "Yellow Light."
Additionally, the star-studded soundtrack, due June 23, will feature songs from the 1980s, including Michael Jackson's "Bad," a-ha's "Take On Me," and Madonna's "Into the Groove."
With voice work from Steve Carell, Kristen Wiig, and Miranda Cosgrove, Despicable Me 3 is due in theaters June 30.